How many do you remember?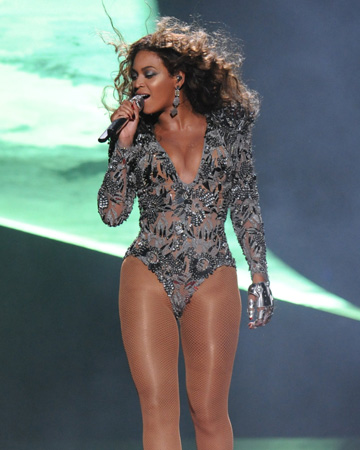 Best of the VMAS
Of all the awards shows on television, there isn't one more hotly anticipated than the MTV Video Music Awards. There are always epic performances on board and this year is no exception -- but remembering past performances is fun too! We've compiled a list of the best of the best in the history of the awards. How many do you remember?
So many performances, so little time. The one thing the VMA's have always been known for are epic performances. Some of today's greatest stars made their marks during an opening performance or musical number and in turn, made music history.
Who can forget Diddy's tribute to fallen friend Notorious B.I.G. when he sang I'll Be Missing You with Biggie's wife, Faith Evans? How about Eminem when he performed Slim Shady for the first time? Or Britney Spears dancing with a live snake in I'm A Slave 4 U? But there can only be ten of the best, and here they are, counting down to number one!
10
Rihanna, Disturbia 2008
Backed by awesome drum beats and a bunch of zombies that made Michael Jackson's Thriller look tame, RiRi opened up the 2008 VMA's with this awesome dance party. She showed that she was a force to be reckoned with, then and now.
It was so simple and direct, but just what everyone needed back in '92. Nirvana put their best foot forward with a cool as hell performance of one of their most epic tunes. Kurt Cobain was a genius, understood his audience and for one brief time, looked like he was having fun because he knew he had the audience in his hands. He also ticked off MTV execs by starting off with the band's latest tune, Rape Me -- a song the network forbid them to play because of censorship issues -- but quickly segued into Lithium.
8
Taylor Swift, You Belong With Me 2009
Teen country queen Taylor Swift had been famously dissed by Kayne West just moments earlier, so she really had something to prove when she headed underground to the New York City subway system to perform her iconic hit You Belong With Me. It was just the attention-grabbing, revenge-getting thing Swift needed to show everyone she truly deserved the award Kanye interrupted her over.
7
Madonna, Britney Spears and Christina Aguliera, Like A Virgin/Hollywood 2003
Whenever Madonna is involved, it's sure to be an epic VMA performance. Put together then-bitter diva rivals Britney Spears and Christina Aguliera, add in an illicit kiss or two (and one disgusted look from Justin Timberlake) and you have the makings of one of the most memorable performances in VMA history. Plus, it was a cool smash up of Like a Virgin and Hollywood, way before the Glee cast made them famous.
6
Beyonce, Single Ladies (Put A Ring On It) 2009
Hot on the heels of Taylor Swift's embarassment by Kanye West, consummate performer Beyonce brought the house down when she performed Single Ladies in 2009. She showed the young'uns how it was all done, and in the end graciously acknowledged Swift in a moment that showed her as one of the classiest women on the planet.
5
Eminem, The Real Slim Shady/The Way I Am 2000
Everywhere you looked, there was one Eminem clone after another as he performed The Real Slim Shady. It was a brilliant move and set Em on the road to rap icon status. He showed that rap could be cool, fun and yes, smart as hell. Eminem finished up his set with a heavily bleeped performance of The Way I Am.

Up next: More memorable VMA moments >>