Late Night Pictionary Any One?
We love sitting around with friends playing Pictionary, but we sure wish our friends were Jimmy Fallon and Katie Holmes because they rock at that game!
We've been bringing you some of the best Jimmy Fallon videos from Late Night With Jimmy Fallon and boy do we have another fun one involving Mrs. Tom Cruise herself -- Katie Holmes!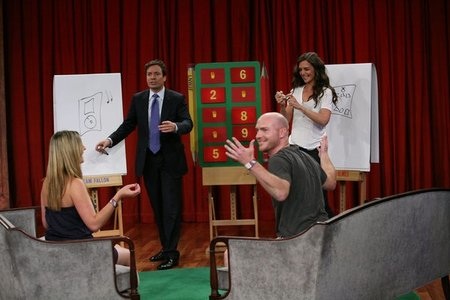 Katie Holmes recently dropped by Late Night With Jimmy Fallon to promote her new movie Don't Be Afraid Of The Dark, which by the way, looks absolutely creepy. Even Jimmy Fallon admitted to hearing whispers and not being able to sleep after seeing it.
The duo chatted about Katie Holmes' obsession with car dancing, which pretty much involves her either bobbing up and down while not caring what others think, or putting one leg up on the seat of the car. It was all very interesting, but not as interesting as Late Night Pictionary.
The premise was Jimmy Fallon and Katie Holmes each got a member of the studio audience on their team and it was off for some Pictionary fun. Check out the video and see if you can make out Jimmy Fallon's interpretation of Lady Gaga -- we thought it was spot-on.
Late Night Pictionary Part 1
Late Night Pictionary Part 2
Fresh off of her appearance on Late Night With Jimmy Fallon, Katie Holmes had to rush to judge the finale of So You Think You Can Dance on Wednesday night.
What did you think of Late Night Pictionary with Jimmy Fallon and Katie Holmes?
read on for more jimmy fallon news
Neil Patrick Harris rocks late night charades with Jimmy Fallon
What's up with Steve Carell and Jimmy Fallon's other voices?
Jimmy Fallon promotes Jersey Shore Bottled Water