The Vampire Diaries Premiere Date!
The CW announced its fall premiere dates and one show that is high on the fans' radar is The Vampire Diaries.
The CW announced its fall premiere dates and one show that we couldn't help but be excited for was The Vampire Diaries. Who doesn't want to know what will happen now that Stefan (Paul Wesley) has unleashed his dark side and Damon (Ian Somerhalder) has told Elena (Nina Dobrev) he loves her?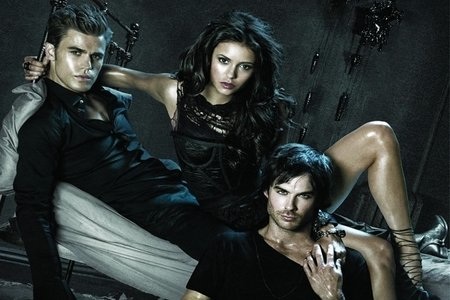 Mystic Falls will once again be front and center on Thursday nights as The Vampire Diaries makes its season three premiere on September 15. Following the season premiere of Kevin Williamson's hit show will be a series premiere of another show helmed by Williamson -- The Secret Circle. It's going to be a full-on supernatural night and we can't wait!
Thursday nights will definitely belong to Kevin Williamson but there are more premieres to be had including the series premiere of Sarah Michelle Gellar's show Ringer on September 13. Staple 90210 will also premiere on September 13 while old favorite America's Next Top Model will kick off on September 14.
Check out the CW's fall premiere dates and tell us what show you are most looking forward to seeing.
Tuesday, September 13
8:00-9:00 -- 90210 
9:00-10:00 -- Ringer
Wednesday, September 14
8:00-9:00 -- H8R
9:00-10:00 -- America's Next Top Model
Thursday, September 15
8:00-9:00 -- The Vampire Diaries
9:00-10:00 -- The Secret Circle
Friday, September 23
8:00-9:00 -- Nikita
9:00-10:00 -- Supernatural
Monday, September 26
8:00-9:00 -- Gossip Girl
9:00-10:00 -- Hart of Dixie