Robin Williams & Zelda In Nintendo Ad
In the new Nintendo 3D commercial we find out that Robin Williams is such a huge fan of the original Ocarina of Time that he named his daughter Zelda after the princess.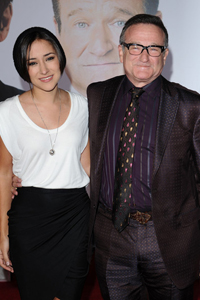 A heavily bearded Robin Williams is heard talking about the new Nintendo 3DS game, The Legend of Zelda: Ocarina of Time 3D, as images of the game flash on screen.
"The first time I saw you, I knew we would be linked forever. I traveled to the four corners of the world. I faced adversity. I became a hero. I saved your kingdom."
"Dad," asks Williams' daughter, Zelda. "Are you mixing me up with the princess again?"
"It's hard to say, you both are pretty magical," Williams says, as the words "Zelda Williams (Named after the princess!)" flash on screen -- followed by "Zelda fans since 1987!"
The original Ocarina of Time for Nintendo 64 is ranked by many people as the best game of all time -- so it will remain to be seen how the new reincarnation will compare.
The Legend of Zelda: Ocarina of Time 3D will be available in the United States on June 19th.
Watch Robin Williams and daughter Zelda in Ocarina of Time 3D commercial: