American Idol's
Scotty McCreery
American Idol contestant Scotty McCreery has the look and the sound that country radio should love -- so why are some stations dissing him? Luckily, he seems to have a celebrity fan in country singer Josh Turner!
Country radio embraced American Idol winner Carrie Underwood, but Scotty McCreery may not get as warm of a reception.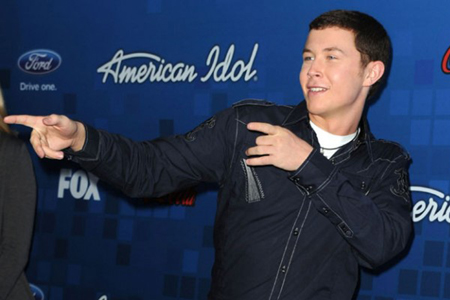 "I'm calling in sick the day they bring Scotty by on radio tour," snipped Toni-Marie, music director for California station KUZZ. "I wish people would quit comparing this kid to Josh Turner. He attempts to sound like him, but the only thing he is successful at is looking like the kid on MAD magazines... Maybe Scotty does have some potential. I don't see it, but he needs someone to teach him to be who Scotty is. Quit doing JT covers and doing that weird eye thing that only Queen Reba can get away with."
Yes, it is hard to deny the MAD magazine comparison (sorry, Scotty), but otherwise the critique is pretty harsh!
Other country radio stations have been just as harsh, with KIIM's Buzz Jackson calling him "creepy" and Jess Wright from WFRE in Maryland saying, "If Scotty McCreery gets signed, I'm gonna need to change my phone number."
Still, it is hard to deny his fan support -- as he caused Scotty McCreery mania when he returned to North Carolina for his hometown tour. Tens of thousands of fans turned out for his parade and concert in his honor in his hometown of Garner, North Carolina.
One radio station personality, Gregg Swedberg of KEEY in Minnesota, has his back. "Just a reminder: Scotty's 17, and he's a pretty good showman at that age," he says. "How can he not get even better? I just think it's silly to unconditionally reject him."
McCreery does seem to have one celebrity fan -- Josh Turner! After singing Turner's song Your Man, multiple times, the country singer surprised McCreery during his hometown visit. Watch the video of Scotty McCreery and Josh Turner below! Turner makes his appearance at the 1:50 mark.
More From SheKnows Explorer