Macchio Won't Freestyle For Finale!
The Dancing With the Stars finale is set! Were you sad to see Ralph Macchio wouldn't be a part of it?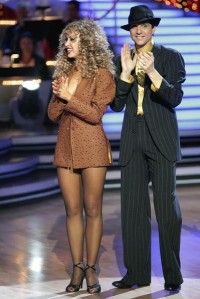 Before we tell you how the Dancing With the Stars finale was decided, can we mention the awesome musical guests that were on the results show?
How crazy was it seeing Stevie Nicks on the most watched reality show? She is pure music royalty. It was also pretty fantastic watching Ne-Yo and Pitbull perform the hit song -- Give Me Everything!
On to the results! Hines Ward and Kym Johnson scored the first perfect 30 of the season -- and they did it twice! Despite Kym Johnson's nasty tumble that put her in the hospital, they secured a spot in the finals. Release the terrible towels all you Pittsburgh Steelers fans!
Leader board hogs, Chelsea Kane and Mark Ballas, also managed to score a spot in the finals! That is going to make a showdown we can't wait to see. Not that Kirstie Alley and Maks Chmerkovskiy -- who also moved on -- aren't competitors, but Ward and Kane have gone head-to-head this season in high scores.
Now that you know Hines Ward, Chelsea Kane and Kirstie Alley are set to battle for the mirror ball trophy, you might notice we didn't mention Ralph Macchio's name. That's because the Karate Kid didn't chop his way to the finals.
What do you think of the dancers America chose for the Dancing With the Stars finale? Were you sad to see Ralph Macchio eliminated?