Toscano: Cheater Or Above-Board?
Did Pia Toscano cheat on her boyfriend then dump him for Mark Ballas? Read on for the scoop!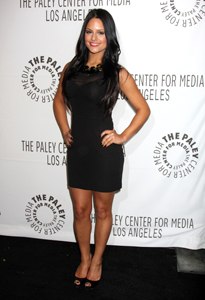 Pia Toscano may have been dumped by American Idol but she is one hot property in the romance department. The singer is dating Dancing With the Stars guy Mark Ballas -- but did she shortchange her existing boyfriend to do so?
Rumors are flying that Pia totally dumped her regular guy boyfriend, caterer Carlos Nunez, for Mark Ballas -- but that is not exactly how it went down.
TMZ discovered that Pia dumped Carlos long before Mark was ever in the picture -- as in a whole two months before even coming to Hollywood to compete on American Idol.
Check this rumor off as false!
Image courtesy Nikki Nelson/WENN.com
read on for more pia toscano
Pia Toscano scores a record deal
Did a voting glitch cause Pia Toscano's American Idol elimination?
Stars speak out over Pia Toscano's American Idol elimination