William & Kate Extended Sneak Peek
The long-awaited royal wedding airs tonight on Lifetime! OK, not the real royal wedding, but William & Kate -- the love story of Prince William and Kate Middleton -- is premiering tonight.
Have you seen the previews for Lifetime's royal wedding movie William & Kate? We have -- and we've gotta admit it looks pretty cheesy. However, we might have to rethink that after it airs tonight -- it's getting relatively rave reviews.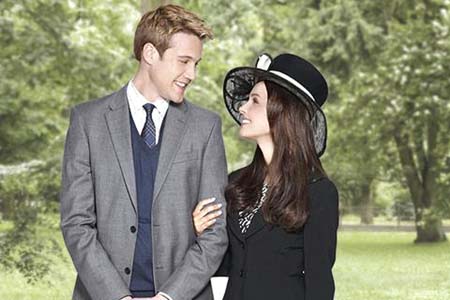 The movie follows the story of Prince William and Kate Middleton from their humble beginnings at St. Andrews University in Scotland to the bride and groom-to-be we know now.
The movie also shows how William (played by Nico Evers-Swindell) and Kate (Camilla Luddington) have the relationship that Prince Charles and Princess Diana were supposed to have, complete with romance.
Of course, the film takes a lot of creative license in creating the story of Wills and Kate -- because no one knows the true true story. However, it's romantic and fairytale-ish enough to satisfy royal wedding fans.
More coverage on the royal wedding >>
William & Kate sneak peek
The movie airs tonight at 9 p.m. EST on Lifetime -- but we're sure it'll repeat in the days leading up to the royal wedding.
Not enough royal wedding for you? TLC is planning a whole week of dedicated royal wedding programming leading up to the royal wedding on April 29.
We're ready to check out the movie tonight and watch the real thing actually happen! Now, if we can only get confirmation on Kate Middleton's wedding dress designer…
Image: Lifetime
Read on for more royal wedding
Emma Watson calls Kate Middleton a 'poor girl'
Kate Middleton confirmed into the Church of England
Prince William isn't going to wear a wedding band