TLC: All Royals, All The Time
TLC just announced a week filled with royal wedding specials -- all leading up to Prince William and Kate Middleton's big day on April 29. What's on the schedule?
It's hard to believe that the royal wedding between Prince William and Kate Middleton is just under six weeks away. We definitely have royal wedding fever -- and it looks like TLC does too!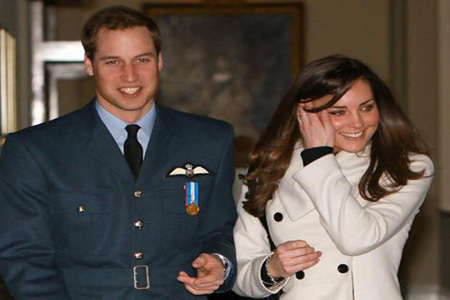 The network just announced their line-up for the week leading up to the royal wedding. The dedicated programming – scheduled for April 22 until the wedding on April 29 -- will included royal editions of popular programming, along with specials focusing on Prince William, Kate Middleton and the royal family.
What's on the schedule? Lots.
Say Yes to the Dress and What the Sell? will air special royal-themed episodes that air during the week. Other specials scheduled include:
Charles and Di: Once Upon a Time -- Sunday, April 24 at 7 p.m. -- This special relives the wedding of Prince Charles and Diana Spencer with exclusive footage and interviews.
Untold Stories of a Royal Bridesmaid -- Sunday, April 24 at 9 p.m. -- The story of India Hicks, one of Princess Diana's bridesmaids.
Royally Astounding: 30 Defining Days of the Monarchy -- Sunday, April 24 at 10 p.m. -- Explore the history of the British Monarchy with this special.
Wild About Prince Harry -- Monday April 25 at 10 p.m. -- All about Prince William's rebellious and hunky younger bro.
Extreme Royal Collections -- Wednesday April 27 at 10 p.m. -- Go inside the collections of some of the most prolific royal fans around the world.
The Making of a Royal Wedding -- Thursday April 28 at 8 p.m. -- Get a behind-the-scenes look at the logisitics behind an event like the royal wedding.
Countdown to the Royal Wedding -- Thursday April 28 at 9 p.m. -- A roundtable discussion that will prime viewers for the big day.
TLC's Royal Wedding Coverage -- Friday, April 29 -- TLC will air the royal wedding, along with all-day coverage of the event of the century.
Will you tune in for TLC's royal wedding extravaganza?
Read on for more royal wedding
Prince William and Kate Middleton reveal royal wedding website
Prince William and Kate Middleton reveal royal wedding invite
Royal wedding party revealed