Red Carpet Oops:
You Stole My Look!
Do you ever feel déjà vu when you are looking at red carpet fashions at awards shows? Even though celebrities have stylists and agents to help them look their best on the red carpet, many still fall prey to wearing a similar look that has already been done on the red carpet. Find out which celebrities at the Grammy Awards 2011 have worn copycat dresses.
Jennifer Hudson vs. Halle Berry
Jennifer Hudson looked amazing at the Grammy Awards 2011 wearing an asymmetrical corset top dress. Halle Berry had the same idea when she wore a similar look to the Golden Globes this year. Hudson wore black strappy heels, while Berry wore metallic heels with thin straps. They both wore diamond cuff bracelets. Who wore it best?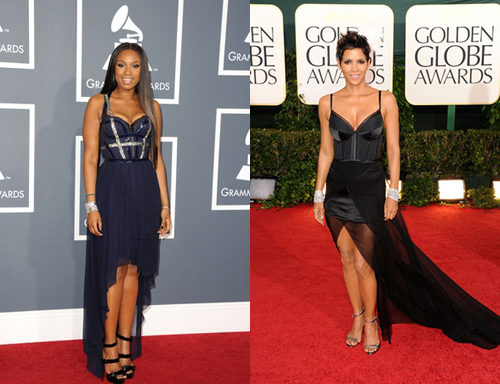 Selena Gomez vs. Lea Michele
Lea Michele went for a metallic sheath dress to the 2011 Sag Awards. Selena Gomez wore a similar look to the 2011 Grammy Awards in this J. Mendel gold metallic dress. Both dark-haired ladies wore their hair down and wavy. Who wore it best?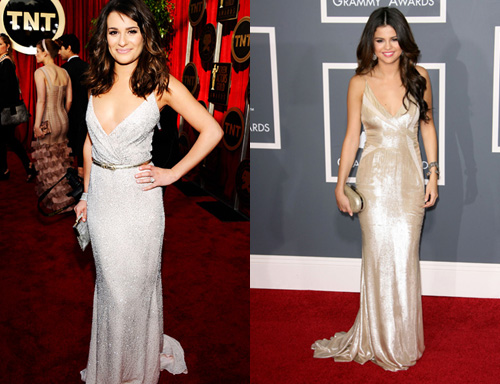 Jane Krakowski vs. Jewel
It's the battle of the baby bumps! 30 Rock star Jane Krakowski wore a draping one-shoulder Badgley Mischka Couture dress in slate blue to the Golden Globes 2011, while Jewel dressed her bump in a similar draping one-shoulder yellow dress to this year's Gramy Awards. Jewel wore her hair up in an elegant updo, while Krakowski kept hers long and flowing.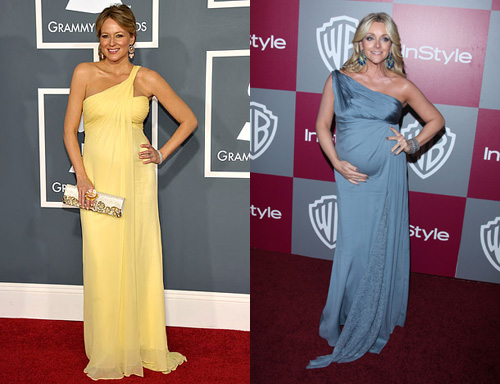 Rihanna vs. Nicole Kidman
Rihanna's controversial Grammy Award 2011 dress was a ruffled see-through mermaid gown from the Jean Paul Galutier Spring 2011 haute couture collection, while Nicole Kidman also wore a strapless Jean Paul Gaultier mermaid gown – although the two dresses have an entirely different look to them. Which dress do you like the best?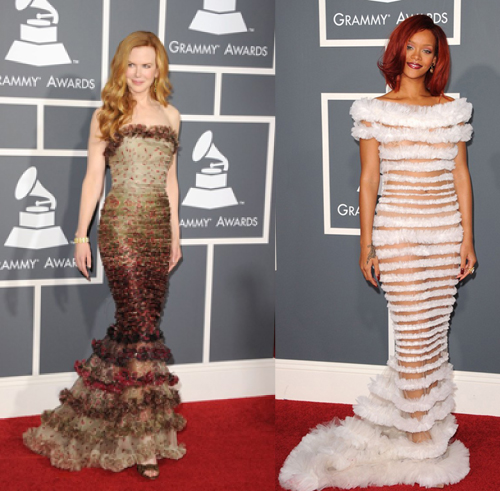 Lady Gaga vs. Madonna
Lady Gaga has been compared to Madonna many times, however it is hard to deny the comparison during her 2011 Grammy Awards look. Gaga has the same cone bra and long, blond ponytail that Madonna had circa 1980. Who wore the look best?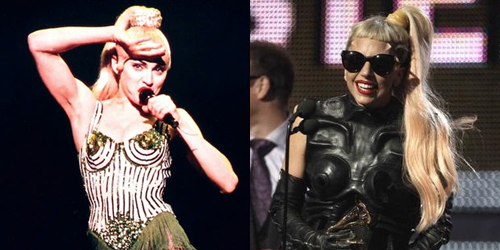 More Grammy Awards 2011 fashion:
Grammy Awards fashion replicas: Lea Michele, Jennifer Hudson and Kim Kardashian
Grammy Awards fashion replicas: Jennifer Lopez, Selena Gomez and Keri Hilson
Grammy Awards fashion replicas: Miley Cyrus, Katy Perry and Kelly Osbourne