The Office
Exclusive!
The Office scene-stealer Angela Kinsey has come a long way from her upbringing in Indonesia. She lived in Jakarta where she first discovered her passion for performing. When she was 14, Kinsey moved back to the United States when her family moved to Texas.
(page 2 of 2)
Angela Kinsey: How it all happened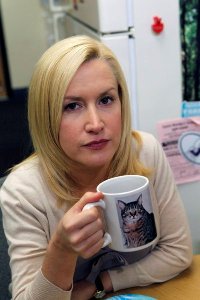 SheKnows: Did I read that you spent a semester in England while you were in college?
Angela Kinsey: I did. It was awesome.
SheKnows: Was it kind of a unique view for you because British comedy is slightly different? Yet we all arrive at the same end. What was that lesson like for you?
Angela Kinsey: I grew up in British comedy because in Jakarta we didn't get American television and I went to an international school. A lot of my friends were from England and I grew up on Fawlty Towers, that was my favorite show. I probably shouldn't have been watching as a kid because there were so many boob jokes [laughs]. But all of those shows -- that's what I grew up watching. And then every once in a while, I would get a little bit of Little House on the Prairie, which looking back was pretty hilarious [laughs].
SheKnows: Were you aware of the British The Office with Ricky Gervais before you even started this project here in America?
Angela Kinsey: Yes, I had seen every single episode. I was a huge fan. I thought it was ground-breaking in the sense that it was bringing back the kind of comedy that didn't care what you thought. It was going to have awkward moments. You were going to cringe, you had to sit through it. The audience was not pampered. I loved that about it. When I heard that they were making an American version, my instant response was, well that sucks. I thought, "This is going to ruin it." [Laughs] I have been so impressed with the way that Greg Daniel did the American version and I really feel like we respected the British form and then became our own.
SheKnows: Tell me about Ricky Gervais.
Angela Kinsey: Ricky stopped by the set one day and we were so excited. It was like one of the first days and he was there in the very beginning. I had a big scene right after lunch and he was there for lunch. I said, "Oh my gosh, my scene is up." He said, "Don't worry, I won't 'tsk' too loudly." OMG! He's just so funny and just an amazing talent. He can do great things with the smallest moment. It's very awesome to watch as an actor.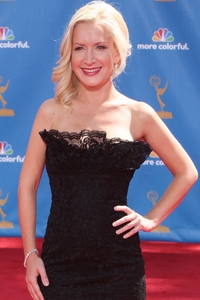 SheKnows: Has being a mom changed how you, maybe not view work, but its role in your life? Also has it made you work harder in the sense that you're working for somebody other than yourself?
Angela Kinsey: It's made me aware of time. It used to be on the set if we ran behind I'd be like, "Oh well, you know, we'll get it worked out." But now I'm like, "Oh. Those few hours we ran behind I could have been at the park with my daughter and now I'm going to miss that time." It just raises stakes in your life. You want to be punctual. You want to be professional. You want to arrive and do your job and do it well so you can get home to the people you love. You do it. Isabelle is such a loving sweet child, I just love her so much. I respect who she's becoming. Her personality is totally starting to shine through. Being with her makes me want to be a better person. It makes you want to take this emotional inventory, physical inventory of your life and be like what's important, what matters and anything that doesn't, weed it out.