Gwyneth Paltrow
Talks To SK!
Gwyneth Paltrow is superwoman. We're convinced of it: Oscar-winning actress, rocker wife, devoted mom, website guru, exercise queen and now -- darn good singer and guitarist in her new drama Country Strong.
(page 2 of 2)
Gwyneth goes gaga for Garrett & Leighton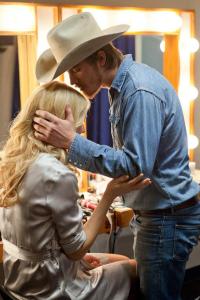 SheKnows: Can you talk about working with Garrett Hedlund and Leighton Meester in Country Strong?
Gwyneth Paltrow: Yeah. It was great. I didn't have a lot to do with Leighton, but we had a few key moments and I love young women and I love seeing them do their thing. Since I've had kids, I feel very maternal towards the younger generation and she was great. She has a beautiful voice and I felt like it was a great role for her. Garrett is just so paradoxical because he's so big and he's like a real man, not like a puny, Hollywood actor. He's tall and he's raised on a farm. But he's so sensitive and he's got so much heart and you look in his eyes and there is so much in there. So it was really fun to work with him and to see him do his thing. I love his singing voice so much. I listen to his song all the time. He's great.
SheKnows: Speaking of being maternal, there are some tough scenes regarding a baby for your character Kelly in the movie. Were they especially tough for you?
Gwyneth Paltrow: Acting maternal
Gwyneth Paltrow: Yeah. That was really hard. Once you're a mother, the idea of losing a baby...it was easy to cry on those days.
SheKnows: Did you base Kelly on anyone; her performance style? Tim said that you owned the stage by the end like Faith Hill would. Did you get that from her?
Gwyneth Paltrow: I pulled from a lot of different people. The performance at the end if I had to say who influenced me the most, it was Beyonce, weirdly, because it's not in the same genre. Her confidence level and her presence is so mind-blowing especially when you try to do it and you see what she does, it's like inhuman. I thought if I could just bring a tiny bit of that extreme confidence and joy and abandon that she brings [it would be great]. Because it wasn't like I was just trying to play a singer who was trying to make it, I was playing a huge, huge star.
SheKnows: How hard was that for you?
Gwyneth Paltrow: Well, that's what really threw me off because I was like, "I know I can play someone who's just trying to make it, but how can I be credible as someone who's won seven Grammys and sold however millions of records?" That's a very special and specific thing. So that was what I was really aiming for, to try and pull that off.
SheKnows: Your character gives Leighton's some great advice in the movie. Do you ever give young actresses any advice? If so, what would it be?
Gwyneth Paltrow: Yeah. I mean, if I were asked. You never have to sleep with anyone to get a part. Not in my world. And I think the main thing is to stay grateful and humble because I see it happen a lot with kids who are coming up. They're good people, but they've just lost the plot a little bit. Luckily I had my dad. He, very forcefully, yanked me back down to earth, but I think if you lose gratitude and you don't appreciate every opportunity that comes your way, that's like the biggest sin. That's what I would say.
Gwyneth Paltrow on fame
SheKnows: Your character just falls under all the pressure of fame. Has that ever happened to you?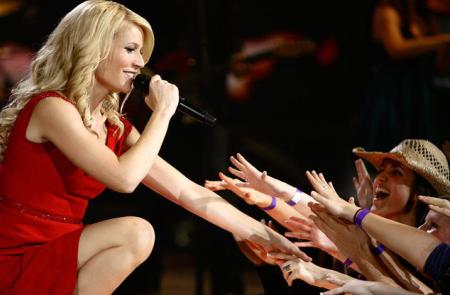 Gwyneth Paltrow: After I won the Oscar, it was really too much for me. I thought that I got the flu, but I had whatever it was for like three weeks. I was in my parent's house. I was just exhausted and overwhelmed. It was too much. It's a lot.
SheKnows: You have said that you went on a more liberal diet for this role. Can you talk about that? Did you give up your exercise? I mean you look great in the role anyway.
Gwyneth Paltrow: I ate whatever I wanted and I didn't exercise, but fortunately or unfortunately the Tracy Anderson method that I do works so well that it took me basically the whole time for everything to fall apart. So I only gained probably like seven to ten pounds. I wanted to gain more, but it didn't really all go to hell until right when the movie was ending which was kind of a bummer [we laugh].
SheKnows: What is your latest posting or project on your website Goop?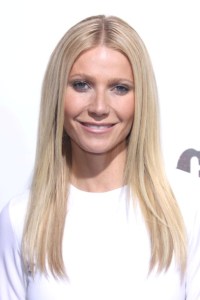 Gwyneth Paltrow: I'm developing a seasonal app for it that will cover a different city each time and there's a bunch of cooking videos and lots of food stuff and travel stuff and exercise stuff. I think that'll be in January. I'm just sort of going along and doing the weekly postings. Last week was cozy shoes for winter. I can't remember what we're doing this week.
SheKnows: Do you think living in London has helped you and your family; being away from all the Hollywood craziness?
Gwyneth Paltrow: Yeah, I do. As much as I miss it here, and the older that I get the more that I want to move back to California, it's nice to live in a place where show business is not the center of everyone's dinner conversation. It's nice to just be with people who have all different kinds of jobs, like, all the mums at my kids' school. It's just nice. And I feel like even here the mums at school are just like, "Oh, how much did it gross this weekend?"