Jason Segel
Opens Up
Jason Segel sat down with SheKnows to talk about his new movie, Gulliver's Travels, as well as coming to terms with his R-rated past as he stars in kids' movies, including his upcoming project The Muppets. Gulliver's Travels, also starring Jack Black and Emily Blunt, hits theaters Christmas Day, December 25, 2010.
(page 2 of 2)
Naked break-up
SheKnows: Is it really true that you were naked when you were broken up with once?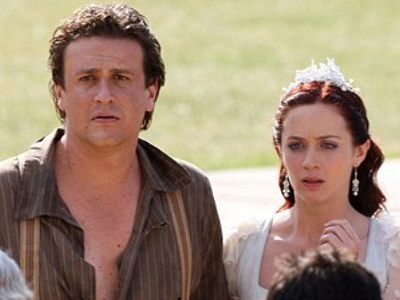 Jason Segel: Yeah. It was the worst thing ever. My girlfriend at the time was away for a couple months and I was really excited to see her. And she called me from the airport and said, "I just got back. Can I come see you?" And I thought, "Yeah, you can." And I thought that meant, let's do the thing. And so, when she arrived, I thought I'd be really cute. I was laying on the couch in, like, the old Burt Reynolds pose, completely naked. And she walked in and I said, "Hey, babe." And she said, "We need to talk." And it's never, "We need to talk. I love you so much." I knew as soon as, "We need to talk," that things were going to go horribly wrong.
SheKnows: Did you put pants on before you talked?
Jason Segel: No, I put pants on halfway through. What happened was -- I haven't talked about this in so long. So, we were having this break-up. And then, halfway through I just looked down at my, you know, you can imagine what's happening to your body at that point. And I'm like, "All right. I need to go put clothes on." And she goes, "Yeah, go put clothes on." So, I went into the bedroom and I had an amazing revelation. Picking out an outfit for the second half of a break-up is the hardest outfit you'll ever pick out in your life. I came out in a button up blue shirt and khaki pants -- full dress day at school or something. And I walked out and then the first thing that came out of my mouth was, "I'm wearing your favorite outfit." And it wasn't her favorite outfit. Oh, man.
On kids and marriage
SheKnows: You speak so passionately about kids and movies and your work in that genre. Do you see yourself maybe being a parent some day?
Jason Segel: If I met the right girl, it's as simple as that. I think there is a difference between men and women to some extent. Not all men and all women, but I think for women it's like, "I'd like to have a kid by the time I'm this age," or, you know, it's like a life goal. For me, it would be meeting the woman with whom I want to have kids.
SheKnows: You know, you'd be a kid's idol.
Jason Segel: Well, I have really amazing parents. And one of the things they taught me is the most important thing is to be nice and not to be rich or famous or anything like that. And so, there's something real nice about making a kid smile.
Watch Gulliver's Travels trailer!