Top Celebrity News!
Check out today's top celebrity news from around the web, including Miley Cyrus, Barbara Walters, Eva Longoria and much more!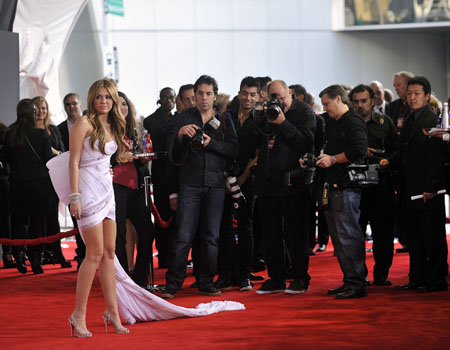 Miley Cyrus turns into Lindsay Lohan in 5, 4, 3, 2... - TMZ
Barbara Walters reveals her 10 Most Fascinating People of 2010 - The Wire
Eva Longoria looks like she's getting over it just fine - Too Fab!
An entire season's worth of spoilers for The Bachelor in one post - The Hollywood Gossip
Way to ruin the surprise for Reese Witherspoon - Anything Hollywood
Did Gisele Bunchen get her lips done? - The Berry
Jillian Michaels is leaving The Biggest Loser - Limelife
Is this the real reason why Drew Carey lost so much weight so fast? - Allie Is Wired
Winona Ryder wants babies - Celebrifi
Cher brings her nipples to Spain - ICYDK
Wanna live like Bradley Cooper? Just take this pill - The Frisky
Khloe Kardashian wishes she wasn't a giant - E! Online
The Survivor: Nicaragua cast is surprisingly still alive - RTVM
Fringe moves to Fridays - TV Fanatic
No DWTS for Lindsay Lohan - Splash News