Home Is Where The Hoff Is!
David Hasselhoff is teaming up with A&E for a brand new reality show that takes us into the family life of the man, the myth, the legend -- The Hoff!
(page 2 of 2)
DAVID HASSELHOFF DISHES DANCING WITH THE STARS AND BEING THE HOFF
SheKnows: What did your daughters think of you being on Dancing With the Stars?
David Hasselhoff: They encouraged me to do it. They were devastated I was knocked off the first round! It is the hardest thing anyone can do. I've done Broadway, the West End and Vegas. I can even do two hours a night with 10,000 people in my own show. But that was tough. But it's okay, as soon as I was done I went to Vienna and did a concert and now I'm going to London to do Peter Pan.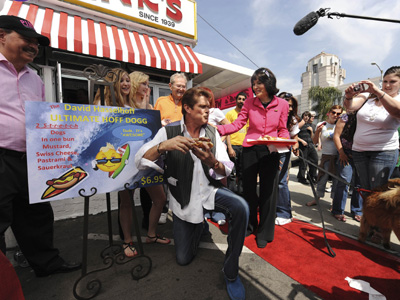 SheKnows: Can we talk a bit more about Peter Pan?
David Hasselhoff: I start December 10. It's the 100th anniversary of the Wimbledon Theater and I'm playing Captain Hook. It's going to be fantastic.
SheKnows: You've never really made excuses for yourself -- you are who you are.
David Hasselhoff: I've said I've f**d it up and I'm a man and I have honor. Now all of a sudden I find myself telling my daughters what to wear.
SheKnows: You can't do that, David, you can't tell us what to wear.
David Hasselhoff: It's impossible! In fact, I said no more money for a stylist. I have a great idea. Taylor you wear Hayley's clothes and Hayley you wear Taylor's. They looked at me like I was nuts. I thought it was a brilliant idea. Instead of stealing from each other, just ask. The biggest problem they have is they steal from each other and no one admits it.
SheKnows: Do you ever just not want to be The Hoff?
David Hasselhoff: No. I like being David Hasselhoff, but The Hoff is this character that is fun and crazy. I mean, it is crazy trying to do an interview like this with people honking at you on the freeway giving you the thumbs up. Every time I question if I want to be David Hasselhoff somebody walks up and says something nice and that affects me positively. That's an amazing gift.
Watch The Hasselhoffs promo clip here!