Vaughn & James' Dilemma Dish
We're in Chicago and hometown hero Vince Vaughn has invited us onto the set of his latest film, The Dilemma. Vaughn is joined by his co-stars Kevin James and Jennifer Connelly as well as his director, the always astounding Ron Howard.
(page 2 of 2)
Vaughn & James: Meeting of the comic minds
SheKnows: Your characters in the film have known each other forever. Did you two meet before beginning work on this film?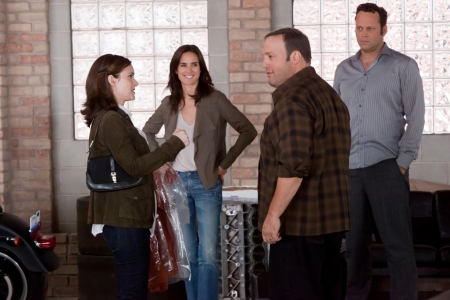 Vince Vaughn: Well, we did something a little different where we decided to shower with each other every morning just to get familiar with each other.
Kevin James: You have to do it anyway.
Vince Vaughn: For the first week. Then the second week was, "Let's clean each other." Then that way you really break down another wall -- and then came the tubs. We take a tub at night.
Kevin James: Yes.
Vince Vaughn: Come over for a tub? Do you want to come over for a tub?
Kevin James: A lot of water was involved.
Vince Vaughn: It is the back story that they've known each other for a long time. I mean the fun thing, the interesting concept with the movie, is that it's not someone who's sort of a friend but it's really your closest friend and you find out that the wife is doing things but you've also known her for a while. So what is the appropriate way to break the news or tell the news? Do you go to her first? Do you give her a chance? Do you go to him? So the concept of the movie is -- do you tell or don't you tell? That really becomes the journey that the characters go on, and for me, I've known Kevin a little bit. I met him out once or twice but I was always a huge fan of his stuff. For me, Kevin reminded me a lot of one of my favorites which was John Candy. John was very funny but he wasn't trying to be hip, but as a result to me he was the hippest of them all. Like he says in Planes and Trains, "I'm the genuine article. What you see is what you get." I feel that way with Kevin, a guy who's got a real sincerity to him and an honesty and an integrity but at the same time funny as hell and in a way that's connected, that's relatable. What he did in Hitch, God, your heart just breaks. I thought, "I love this guy. I'm rooting for him." It was very easy to sort of establish any repartee with Kevin as far as what a friendship is and what is a history.
Kevin James: For me, it was one of the same things, like when you look up to somebody. I've met a lot of people that I've looked up to that don't pan out to be the kind of person that you want them to be. That wasn't the case with Vince. He couldn't be a greater guy and it's always nice to have someone you really admire and look up to be such a great guy. Honestly, it sounds like we're just kissing each other's ass but I mean it [laughs]. He took me into this city and his wife is great and our wives get together.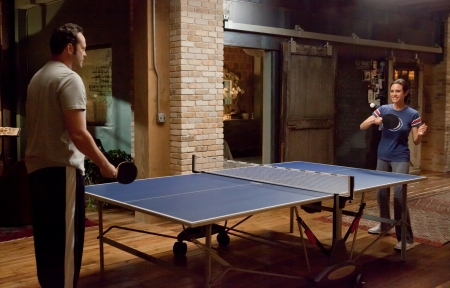 Vince Vaughn: That's how I can tell that I'll like working with him on the set. He's generous with the other actors, what their lines are going to be, "What's this going to be and what's this?" And usually guys that are really good at it, they come from that place where it's sort of about making sure that you're elevating the people around you. So it was really easy.
Vince Vaughn: Chicago ambassador
SheKnows: Vince, you've shot a lot of films here in Chicago. I think Ron said it was your idea to do the movie here. Do you get something extra out of doing movies here in Chicago?
Kevin James: All the hot dogs he wants.
SheKnows: Has Vince shown you around Chicago?
Kevin James: First of all, for some reason and I don't know why, but I don't think that I'm funny in California. So I always want to do my movies east somewhere. I've been in Chicago a few times to do press, but for a couple of days each time and I've never gotten to experience the city. I've experienced it with Vince and his family and his friends, and you just see what it's really like. It's just such great people and it gives you such a great feeling. You want to shoot here and you want to be funny and you really feel like you connect with everybody here. It's an amazing feeling and I'm not excluding California. This city has been great, I love it. I don't know what you get for doing it but I'm so happy that you did make the choice to do it here.
SheKnows: Vince, other than being near home, what is it about filming here in Chicago for you?
Vince Vaughn: For me, I love California. I feel like it's my second home in that I moved out by choice at 18. It gave me opportunities that I didn't have anywhere else. I have a lot of close friends out there and a big part of my life is out there. I still have a lot of close friends and feel connected to it. So we did do Swingers in California which is so specific to those neighborhoods. I have worked in California recently and I will continue to do stuff there. But for me this is home. To come here and get a chance to film here means a lot to me. I feel that I'm shaped a lot from coming from this part of the country. I think it has informed who I am to a large degree. I have a family that I'm starting now. So for me I want to be able to come home at night when I'm filming and my priorities have changed in terms of that thing. It's where I want to raise my family.
SheKnows: Vince, you are in almost every scene of The Dilemma, exhausted much?
Vince Vaughn: I guess for me, first and foremost, I'm always grateful to be working. I start from a place of really, truly everyday being thankful that I'm working. It's just how I've always approached stuff. So there are days where you're feeling physically taxed or run down but working with Ron has been amazing for me. Kevin has been amazing. I think that's why I so quickly went to that other cast because when you have really talented people coming in and inspiring you and doing great, it makes it really easy to connect and listen. It makes your job a lot easier. I feel like we've all worked really hard. We've all, on this movie particularly, invested a lot. So that's rewarding. I can never think of a time in my life where I tried my very hardest and regretted it, at anything. So to have that opportunity to do that, first and foremost, I'm thankful.