The Cher & Christina Show
Burlesque star Cher has been called a showbiz legend. Her co-star, Christina Aguilera, has been dubbed "the voice of a generation" for her amazing vocal abilities. Aguilera and Cher might represent different generations [Cher is a great-looking 64 and Christina turns 30 soon], but both megastars look glam, fit and can blow the roof off with their voices. They display fine acting chops in addition to some amazing costumes and dance moves in the new movie musical Burlesque.
(page 2 of 2)
Meeting Cher
SheKnows: How did you meet Cher for the first time?
Christina Aguilera: I was on my way to dance rehearsal. I was in sweat pants and flats and I had my baby on my hip. Clint [Culpepper, studio head] came up to me and said, 'You've got to meet Cher. She's right over there in the next soundstage rehearsing for her Vegas show.' And I was like, 'Clint, you can't put me on the spot like that. I have sweat pants on and I've got my baby on my hip. I need my high heels. I'm going to meet Cher. What are you thinking?' And he was like, 'No, she doesn't care about that. Just come meet her.'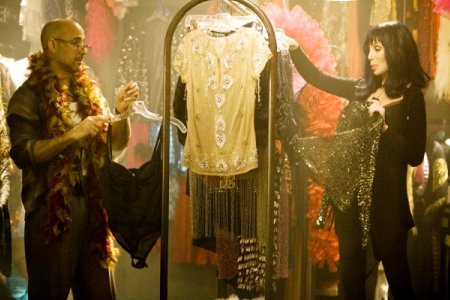 SheKnows: Were you really, really hoping she'd do the film?
Christina Aguilera: Yes. I was like, 'Go stalk her. Sleep outside her door. Do whatever you need to do to get Cher to do this film with me because I can't see anybody else being Tess.' Clint told her, '[Christina] loves you. She wants to be in this movie with you. She would drink your bath water. She's in love with you' and then she signed on. As I walked up to meet her, all shy, I just went for it and put my hand out and said, 'Hi, Cher. I'm Christina. I'm the one that wants to drink your bath water.' She laughed and opened her arms up to me, and it was just a bonding love fest from that day on.
SheKnows: Cher, your song You Haven't Seen the Last of Me must have come from deep in your soul. It was an amazing performance. Can you talk about that number? Did it mean something special to you?
Cher: Yeah. First of all Diane Warren wrote it. She's been my friend for a long time. She wrote If I Could Turn Back Time. There were three notes in this one that I didn't have in my range and I really don't know where they came from. I was more surprised than anybody. And doing it, I thought, was so perfect for the character and she wrote it for that moment in time.
SheKnows: Was there something about the words on a personal level?
Cher: Yes. When I started this character, I thought, 'This is hard to play supporting to this girl [Christina Aguilera] and know that this is what's happening in my life or potentially happening in my life. I have to kind of move over.' Not that I'm doing it gracefully because you'd have to pull me over [we all laugh] but yeah that song, for me, had a lot of meaning. Also, when Stanley and I have one of my first scenes, he goes down to do something to my shoe and I go, 'Ow!' and he goes, 'What, your shoe or your foot?' I say, 'Yeah. My foot and my back and my shoulder or whatever.' I'm old and from throwing myself around and from dancing and falling and being dropped by dancers and things like that, there was a lot of too much truth in this film for me a couple of times so that song was really meaningful.
From Bionic to Burlesque
SheKnows: Christina, you had your first professional setback this year with your album, Bionic, not doing so well. Did that make you re-evaluate what you want to do, as a musician?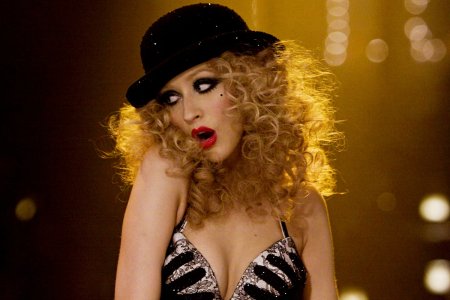 Christina Aguilera: No, I was really proud of that record. I started recording it before I went in to make the movie and, by the time I ended the movie and came out of it, I had to jump right into [finishing] that record. By the time I was done with the movie, I was just a completely different person. Now, I'm in a place where I'm very much in an introspective state of mind, have a lot to say, and have grown leaps and bounds from the film. I'm a changed woman. So, I'm very much ready to make a new record. Nothing is ever a setback. If anything, it just motivates you for what's next.
SheKnows: Would you say the same thing about what's happened with your marriage?
Christina Aguilera: I'm looking forward to the next chapter. I'm a smart girl. There are decisions that I make for reasons, and the most important thing is that my son is happy and he always will be. He's surrounded by love.
SheKnows: Did you have that moment in your own life where you knew that you wanted to be up on a stage performing?
Christina Aguilera: Yeah. I remember watching the Grammys and looking at the performances and crying to my mom, saying how much I wanted to be there. Thank God, cut to years later, I won Best New Artist at the Grammys and performed there, and now I've made a movie with one of my idols -- Cher. It was easy for me to get into character, in that way.
Christina & Cher celebrate Christmas
SheKnows: Ladies, any holiday plans yet?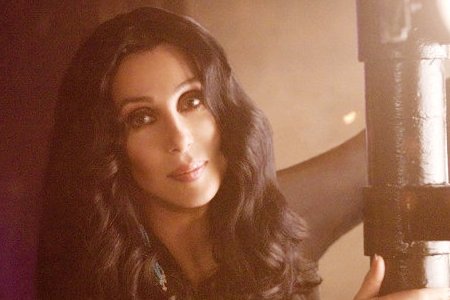 Christina Aguilera: My birthday is December 18th and I'm turning 30 years old this year. It's the next chapter of my life. But, because I'm working so much, I'm postponing my birthday party, so New Year's Eve will be my big 30th birthday party. And, I'm looking forward to spending the holidays with my son. I'm doing a lot of travel for the movie, and I just can't wait to be home with my son, playing Santa Claus.
Cher: I don't have plans for New Year's Eve but my family and I go to Hawaii together and we're all crazy! It's fun.