Christina Aguilera Honored!
Things are looking up for Christina Aguilera -- the Burlesque headliner has been honored with a star on the Hollywood Walk of Fame!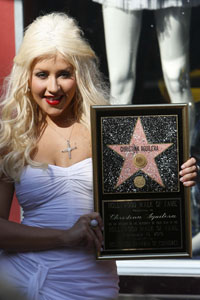 Despite several personal and professional setbacks this year, today was a day for Christina Aguilera to celebrate -- the powerhouse singer was honored with a star on the Hollywood Walk of Fame.
"Oh my goodness! Can I tell you how amazing it is to look around and see all of your fabulous faces here today?" she said in her acceptance speech. "Thank you so much for coming out to support me and support this amazing, incredible day in my life. Dream big, everybody, because I worked very hard for this moment and I want to thank you all for allowing me the opportunity to share it with all of you. I love you!"
Christina Aguilera recently announced plans to divorce her husband Jordan Bratman.
While Aguilera's last album Bionic performed poorly and she canceled her planned concert tour, she has high hopes for Burlesque, which opens in theaters November 24.
read on for more christina aguilera
Christina Aguilera talks about her divorce
Christina Aguilera turns to Samantha Ronson
Christina Aguilera steps out with a new man