Daniel Radcliffe: Potter Interview
Harry Potter and the Deathly Hallows Part 1 premiered at London's Odeon Leicester Square and the cast, including stars Daniel Radcliffe, Emma Watson and Rupert Grint, celebrated the first chapter of the two-chapter finale to pop culture's most popular and resonant fictional series. After Radcliffe, Watson and Grint marked their achievement into the wee hours, Radcliffe and his Harry Potter clan got their rest and then headed to Claridge's Hotel in Mayfair. We were there awaiting the hallowed cast of the Deathly Hallows -- chief among them Harry Potter himself, Daniel Radcliffe.
(page 4 of 4)
Death of Dobby
SheKnows: One of the most emotional moments of the entire film for us was the death of Dobby. How did you play that?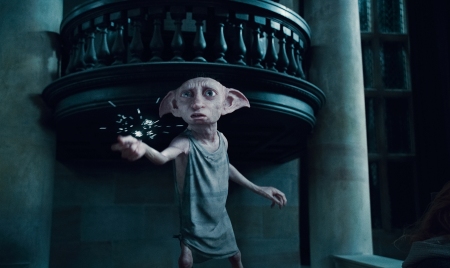 Daniel Radcliffe: I was using a doll and we were also using a little person called Diane who [in a raspy voice] talks like that, and she has blond crew cut hair. She looks a bit like a little Annie Lennox. And it was slightly odd, it was an odd scene to do. When you have Diane in your arms and she's just lying there, limp, it does sort of weirdly feel like a dead child or something -- and was a little bit creepy. It was a disturbing scene.
Want more Harry Potter news & updates?
Check out our Harry Potter Fans site! >>