Daniel Radcliffe: Potter Interview
Harry Potter and the Deathly Hallows Part 1 premiered at London's Odeon Leicester Square and the cast, including stars Daniel Radcliffe, Emma Watson and Rupert Grint, celebrated the first chapter of the two-chapter finale to pop culture's most popular and resonant fictional series. After Radcliffe, Watson and Grint marked their achievement into the wee hours, Radcliffe and his Harry Potter clan got their rest and then headed to Claridge's Hotel in Mayfair. We were there awaiting the hallowed cast of the Deathly Hallows -- chief among them Harry Potter himself, Daniel Radcliffe.
(page 3 of 4)
Harry Potter dance now
SheKnows: At what point did you discover Harry Potter was going to have to dance?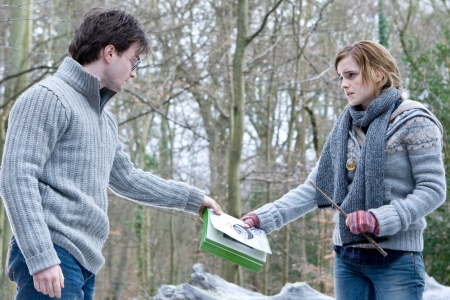 Daniel Radcliffe: David sort of mentioned it to us. He said, "I want there to be a scene with you and Emma dancing." And I was like, "Uh, um, okay fine. Was that in the book?" [Laughs] "Okay, whatever David. Okay fine." But then he said we were going to get a choreographer in. I was thinking, really? Because if it's just me and Hermione dancing, it shouldn't really be choreographed, should it? It seemed like a bit much for two non-dancers to break into sort of a big dance number. And then we eventually did have a few sessions with a choreographer who gave us a vague idea of how to slow dance. It was helpful to me. Then we just sort of made it up as we went along. When I watched the film for the first time, I watched it with a friend of mine. When the Nick Cave song came along, I turned to her and said, "That is the coolest Harry Potter has ever been." [Laughs] And she said, "Yeah, but that's not." And when I started doing my little bat at disco dancing...um, yeah [laughs], I hope I've improved by the time I get to Broadway.
SheKnows: Now early in the movie, there are quite a few Harry Potters. What were the challenges portraying Harry Potter portraying all the supporting characters?
Daniel Radcliffe: Basically, it was filmed with a motion control camera, which is a camera controlled by a computer rather than a human so it can recreate exactly the same move every time. We shoot the scene once. Basically there are six of me standing in a semi-circle. And so we shoot the scene once with me there and the shot goes straight to the end every time. And then we'd shoot it again and again and again and then they'd lay them over on top of each other, so that if...we did ninety-five takes of that shot because I had to do it in all different positions, not because I'm terrible. [Laughs] And if I was standing an inch too far to my left, I was standing in another theoretical me. So it was quite a technical shot. But that was one of the moments that take a long time to do and a long time to get right, and then when you see it all put together you go, "Oh that's awesome. That looks so good."
Harry Potter impressions
SheKnows: Anyone you were particularly good at imitating after a decade?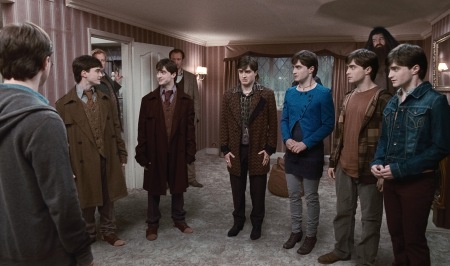 Daniel Radcliffe: Yeah, I've had impressions of Rupert [Grint] and Emma ready to go for like ten years [laughs] and actually it's interesting. There were three people that I got in three takes each. And everyone else took like nine or ten takes. Emma and Andy [Linden] who plays Mundungus were the two people I got the quickest. And Rupert was a nightmare, an absolute nightmare. There is a lot of stuff that's unexpected about Rupert -- not in that particular scene -- but in the scene when we arrive at the Burrow and I'm rushing up as Ron going up to Hermione. And I'm doing a sort of run-walk. Rupert walks with a real wiggle in the hips [laughs] which is something you wouldn't expect. So that was kind of tricky. And the twins almost stand in, to talk in ballet terms, they stand in second all the time with their feet sort of like that [indicates toes pointing outward]. There were kind of reference points with all of them. And for Clemence I just sort of did a French thing [laughs].
SheKnows: Which was the easiest?
Daniel Radcliffe: Um, probably Rupert, even though he's the hardest one to do [laughs]. He's kind of a chilled out guy and when you're trying to inhabit that physical sort of presence, it does sort of relax you a lot. Despite pretending to be him you've got to tone down your anxieties and live in Rupert land for a while, which is a very nice place to be.
Next up, as our interview closes, Daniel dishes an emotional spoiler.