Daniel Radcliffe: Potter Interview
Harry Potter and the Deathly Hallows Part 1 premiered at London's Odeon Leicester Square and the cast, including stars Daniel Radcliffe, Emma Watson and Rupert Grint, celebrated the first chapter of the two-chapter finale to pop culture's most popular and resonant fictional series. After Radcliffe, Watson and Grint marked their achievement into the wee hours, Radcliffe and his Harry Potter clan got their rest and then headed to Claridge's Hotel in Mayfair. We were there awaiting the hallowed cast of the Deathly Hallows -- chief among them Harry Potter himself, Daniel Radcliffe.
(page 2 of 4)
Saying goodbye to Harry Potter
SheKnows: It's been a few months since you wrapped Harry Potter and the Deathly Hallows. You said the last day of filming was pretty devastating. Did you deal with it by just doing another movie? Is that the best way to deal with it?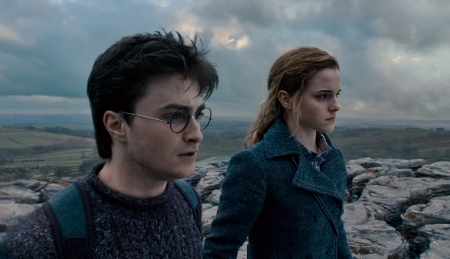 Daniel Radcliffe: Yeah I think so. I was devastated at the actual moment. I was crying for like two hours, but then four hours later I was on a plane and I was reading a script for The Woman In Black and now I'm halfway through filming that. So we moved on pretty quickly. [Laughs] But it was a very sad moment, and at that particular moment in time you feel pretty desolate, I guess is the word. I was pretty inconsolable for a couple of hours, but then, after that, you realize, hold on. I'm on Broadway next year. I've got a couple of things...I'm definitely going to do another film before the end of the year. It's not that bad. It's okay. And ten years is a long time with one character. It's a pleasure to be able to go out on such a high note as I feel we will do. This film seems to be going very well at the moment and then the last film I think will be epic. So yeah, I'm excited to see what people make of it. I felt very lucky to have spent so long with this character, I suppose. And I'm very proud to have been a part of a franchise that has become pretty renowned for the quality of films that we make.
SheKnows: Of all the emotional scenes in the film, probably the most for us was when you saw your room under the stairs.
Daniel Radcliffe: Yeah!
SheKnows: After all this time, what was that moment like?
Daniel Radcliffe: It was very sweet. It was very early on when we did that and...interesting. You're the fourth journalist in actually four days of publicity to actually mention that. And I think it's really sweet but it doesn't get brought up a lot. Weirdly, the first two were kind of older men. [Laughs] But no, I really like that scene. It's very sweet. I like [laughs] for all you film students out there, I like the pseudo-symbolism of picking up the little soldier because that's what Harry knows he's about to become. It's a very sweet, slightly nostalgic scene. I'm just disappointed that I didn't have to crouch more when I went back into that cupboard after ten years!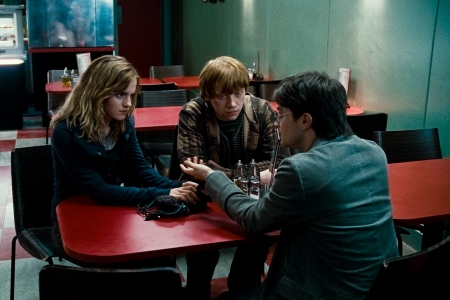 SheKnows: Obviously one of the things about these movies is that when you were doing the first, you didn't know how the books were going to end, what the sixth book was going to be like or what the seventh book was going to be like. At some point they must have said, "Here is the script for The Deathly Hallows." Did they wait until after you were done with six completely?
Daniel Radcliffe: Yes. I don't think it was even started being written until we were done with six completely.
SheKnows: Was any of it a surprise to read on the page of the script?
Daniel Radcliffe: To be honest with you, it's funny. There is always a lot of chaos on film sets, and sometimes on Potter, things were being re-written constantly on the seventh. So scenes would be cut and then reinstated and then changed massively, so you didn't know what you were doing from one day to the next at certain moments. It was interesting because what you said about that prior knowledge that you have, we've always had that to a degree. We never knew how the series would end. When we were filming one, we knew what was happening up to number four. When we were filming three, I was the person who told Gary Oldman that Sirius died. So when we were filming all that stuff, Sirius and establishing that relationship, he knew that that character was going to die. But we never let it affect us all the way through, so by the time we got to this book, we were already quite practiced at that. To a certain extent, it's a problem that all films could face for an actor. Unless you're doing a Mike Leigh film or something, you know when you start off what's going to happen at the end. And you just kind of have to play it without any of that knowledge in mind.
Up next…Harry Potter dances? Daniel takes us inside the tent!