Aron Ralston Relives 127 Hours
Aron Ralston is a living, walking, life-affirming inspiration with his almost life-taking, harrowing account of being trapped deep in a canyon with a boulder holding his right hand hostage, which he recounts in the book Between a Rock and a Hard Place. Now with the incredible work by Oscar-winning director Danny Boyle and James Franco, Ralston's story is getting the big screen treatment to inspire the world once again.
(page 2 of 2)
Aron Ralston jams with James Franco
SheKnows: How much time did you get to spend with James Franco and what was that like for you?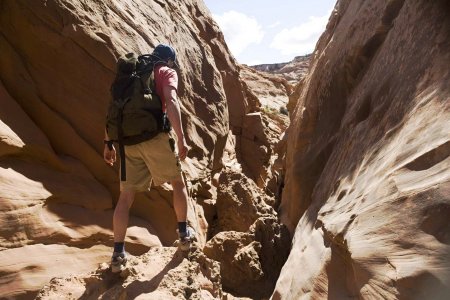 Aron Ralston: It was substantial enough for him to be able to absorb what he needed. It seemed very small compared to what I would have needed to start to really know someone. But, that's how perceptive he is, insightful. He's really brilliant, he is so smart. We watched the videos that I made. That was the first time I met him, here, at the Four Seasons [laughs]. We sat with Danny and the production designer and watched it together. It was funny in a way. I'm watching them, watching me and going through it. We laughed together, there are some real moments of dark humor actually. After drinking my, well whatever, I look at the camera and say, "It's no Slurpee." We all chuckled at that. James laughed and said, "That's kind of a dark thing to say" and he laughed. It was weird. I was reenacting what I did so he could reenact what I had reenacted [laughs].
SheKnows: Did you keep challenging yourself outdoors-wise?
Aron Ralston: If I can get through that, I can get through anything. It taught me the wrong lesson, actually [laughs]. I want to continue the climbing, the adventures and do things far, far more I think both risky as well as ambitious as before the accident. Yet, I have more anxiety in my life today than I ever had -- mostly, because now I have a family. I have the same kind of worries that everyone has. It's not like I'm rock climbing and wondering if I'm good enough. Now, it's about, can I provide for my family? Can I be a strong parent? Can I be an attentive husband? That's what challenges me now.
SheKnows: You still climb, though?
Aron Ralston: Yes, absolutely. Not as frequently as I was doing before, I was out 90-percent of my life in the outdoors. I needed it for my esteem building, I was trying to compensate for my insecurities, I was trying to prove that I was good enough. As I was able to grow past that, at least starting to take those steps, it brought me to a place in my life where I can start seeing that I'm intrinsically worthy. I don't have to be on hyper drive. So, now when I go outdoors, it's about the people that I'm with. Sometimes, it's about the advocacy that I'm doing or guiding -- especially with my family. Because of being here talking about the movie, I get to take my son to the ocean, this wilderness that is in front of him that he's never seen. He's playing in sand he's never seen before, that's better than any mountain.