Top Celebrity News!
Check out today's top celebrity news from around the web, including Demi Lovato, Lil Wayne, Kim Kardashian and much more!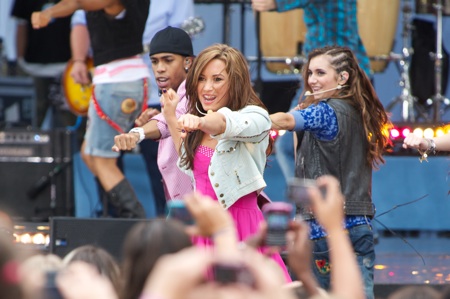 Demi Lovato punched this chick in the face - TMZ
Lil Wayne celebrates freedom at a strip club - Anything Hollywood
Kim Kardasian presents the wonder of autotune - The Frisky
Jon Gosselin makes a run for the border - Allie Is Wired
Baby Spice is knocked up again - Too Fab!
Please tell Kourtney Kardashian that wearing black doesn't make you a New Yorker - Celebrifi
Bristol Palin gets called out by Meghan McCain - The Hollywood Gossip
Tina Fey looks totally cute in that dress - ICYDK
Taylor Lautner has a new piece - Limelife
Oprah and Gayle's hot lesbian video - E! Online
Real Housewives pets - The Berry
Relationship advice, courtesy of The Situation - RTVM
Burn Notice return episode sneak peeks - TV Fanatic
Matt Hughes is chasing storms in the afterlife - The Wire
Is Sandra Bullock Broadway bound? - Dana's Dirt
Natalie Portman is sad - Splash News