127 Hours Of True Life Heroism
127 Hours is the true story of Aron Ralston, the hiker who spent five days with his hand trapped under a boulder deep in a Utah canyon. In the hands of astounding actor James Franco, the film should be a tour de force.
127 Hours is also director Danny Boyle's follow-up to Slumdog Millionaire and between James Franco as the real-life inspiration and Boyle's keen directing skills, 127 Hours could easily be an early Oscar favorite.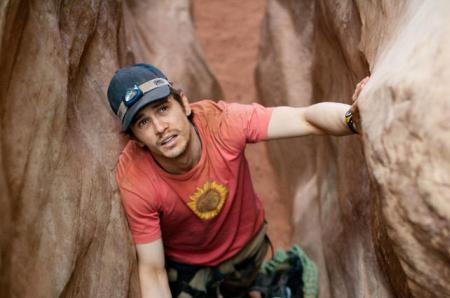 Aron Ralston became famous in 2003 when he amputated his own right forearm after it got trapped under a boulder during a climb in Utah. After five days of having little water, drinking his own urine, videotaping goodbyes to his family, and carving his name, date of birth and presumed date of death into the sandstone canyon wall he was pinned against, Ralston snapped his bones and used a dull tool to amputate the limb.
Ralston then scaled a 65-foot sheer wall and hiked until he ran into a family who gave him water and food and notified authorities. Ralston chronicled the ordeal in his riveting 2004 memoir, Between a Rock and a Hard Place and we've been dying to see the movie version ever since, even if it does have some moments that have made some faint.
When the movie was announced back in January, our first thought was, "If anyone can make a solitary man trapped in a canyon compelling, it's Danny Boyle." Boyle calls the film, "an action movie with a guy who can't move."
We call it Oscar-worthy and Franco's finest moment.
Stay tuned for our 127 Hours review premiering November 5.
127 Hours trailer