Getting On With The Men Of Tron
In Part 2 of our coverage of Tron: Legacy, SheKnows is in Venice, California at award-winning special effects house Digital Domain for our exclusive talks with the cast of the upcoming film Tron: Legacy; the glossy, technically-forward sequel to the 1982 ground-breaking film Tron.
(page 2 of 2)
The Tron family grows
SheKnows: You and wife Melissa Gilbert have been married for a long time and have raised a houseful of boys. So what is the secret to that marriage and having a blended family?
Bruce Boxleitner: It is a blended family. I would say we keep it going by working at it constantly. No marriage is perfect. We have a lady [counselor] we've seen for probably fifteen out of the eighteen years we've been together. If there are some rough spots, we go and she helps us out. As I was reminded by my wife, the 22nd of September was the 18th anniversary of our first date. I was, "Wow, I don't remember that." You should never take it for granted.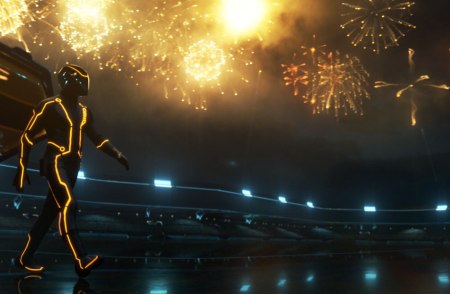 SheKnows: We've heard that Melissa had a horrible health challenge recently. That had to be a challenge for both of you.
Bruce Boxleitner: We just went through her going on the road [in a musical version of Little House on the Prairie] for a year with my 14-year-old. She was singing and dancing and broke her back. For seven months, she had a broken back and a disintegrating disc in her back. Now she's the Energizer Bunny and I can't stop her. Separation really tests you. It was hard. We needed to get back in sync again when we were back home. If you take it for granted, you're going to lose it.
SheKnows: Great and wise advice. Why do you think couples or dates will enjoy going to see Tron: Legacy?
Bruce Boxleitner: Well, it's bright and loud and fun but we've been trying to emphasize a human story. It's father and son but even a daughter can relate to her father. Daughters and fathers have a special relationship. If you can't relate to Garrett who is so much like my own son, you can relate to the other characters. Let's not leave out Olivia Wilde and the romance that springs up. I think the last shot of the movie will hook women on the romantic ending.
SheKnows: Are you addicted to any electronic device?
Bruce Boxleitner: I live on my iPhone, my laptop. I'm not a big technology person but Melissa is. She's got to have every new electronic gadget. I have the original iPhone. I'm kind of a dinosaur at it. It's not a burning desire for me. People are looking down at them and having accidents. That's the dark side of all of this. I like a real human voice.
Michael Sheen: Casting a spell as Castor
SheKnows: Michael [Sheen], how would you describe your character Castor?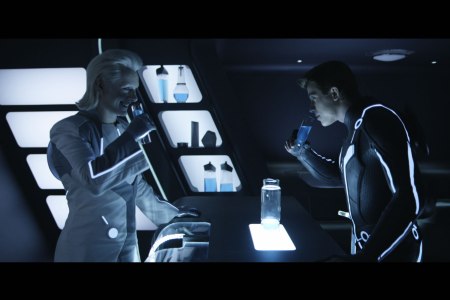 Michael Sheen: He is like the M.C. from Cabaret or a ring master at a circus or David Bowie as Ziggy Stardust.
SheKnows: Wow! You've played a large variety of characters including statesmen. This character is the wild, flamboyant owner of a night club in a cyber-world. Why was this guy interesting for you?
Michael Sheen: I thought it was a fantastic script and I loved all the concepts that [director] Joe [Kosinski] had for it. I loved all the design elements for it and, when I was eleven and watched the first film, it was one of the big cinema-going experiences of my life. It just blew me away. At the age of eleven, you're so receptive and I try to hold on to that. When I go and watch films, I love the fact that I'm able to be transported by things. People say, "Because you work in film, do you just constantly think about how they've done that?" and I really don't. Because of the impact of films like Tron when I was younger, I've somehow retained that ability to be totally awed by what is happening on the screen and not think about the nuts and bolts of it. So, the opportunity to be a part of this was sort of amazing. I still feel that way. Even when I'm doing interviews like this, it's still the eleven-year-old in me going "Wow, I'm in this amazing world!"
SheKnows: Did you play video games back when you were eleven?
Michael Sheen: I remember around that age, I was playing Pong which was about as basic a videogame as you can get. There sure weren't any GameBoys yet. But I remember when they made the original Tron, Jeff and the others would play games like Battlezone [an Atari game in the 1980's] on the set. So clearly, games like that hadn't reached Wales [where he grew up] at that point. I guess we were a little behind. Then, growing up, I played Pacman and Space Invaders and all that stuff and loved it. But, at Comic Con, Jeff Bridges and I played Battlezone on Flynn's Arcade set. When I was eleven, I would never have believed that that could one day happen.
SheKnows: What was the most fun about playing a colorful character like Castor and what was the most irritating? You have on the weird contacts again. Red ones as Aro in Twilight and some in Underworld, I remember.
Michael Sheen: Oh, those contacts in Tron: Legacy were nothing compared to the ones I wore in Underworld. The most fun thing was he's just an amazing character to play; the look is amazing. You get to sing and dance. He's such a big, larger than life character and you get to be ambiguous and mysterious, unexpected and surprising. I get Daft Punk as my house band and there are all these Sirens walking around me and they're all gorgeous so, very little downside.
SheKnows: I was told about some serious discomfort in the new light suits. True?
Michael Sheen: The costumes were amazing to look at and be in when you are acting but between takes, they were not the most user-friendly. We were worried about not being able to sit down or go to the bathroom. It was a stamina test. Garrett had to deal with it every day but was so upbeat and enthusiastic and never complained once. That informs everyone else on the set. The new suits are molded to your body. It's a new kind of thing to wear and the excitement of it is fun. The Tron disc on the back is actually a battery pack that powers your costume.
SheKnows: Do you feel that our modern technological gadgets are making people more distant from one another?
Michael Sheen: Technology is neither good nor bad. It's a tool. If you have nothing to say with a pen and paper, you'll still have nothing to say with an iPad. People will still talk the same old rubbish. They'll just do it quicker and reach more people with it. So it is a tool and that's wise to remember. I love gadgets and there is a kind of beauty about the design of things but ultimately, they just help me live my life in a more efficient way.
SheKnows: A lot of kids and tweens like your daughter [11-year-old Lily whose mom is actress Kate Beckinsale] will just sit across a table, a few feet apart and still text each other. Do you feel that is unhealthy or just fun for them?
Michael Sheen: We'll have to see as each generation comes along but my daughter still much prefers playing a game bouncing on the trampoline with her friends than texting but she loves being on the computer as well. There are different things you get out of it and there is nothing that will ever be able to replace two people telling each other a story.