Is Lohan Heading Back To Jail?
Lindsay Lohan has already failed a court-mandated drug test!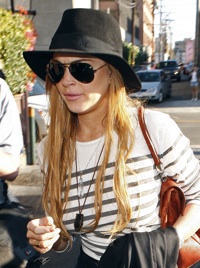 Less than a month after her release from jail and rehab, Lindsay Lohan is already in hot water. According to TMZ, Lohan has already failed a court-mandated drug test!
Despite undergoing intense outpatient treatment for her substance abuse issues, Lindsay has been seen partying til the break of dawn with her so-called friends almost every night since she got out of the pokey. The drug test in question was taken last week.
While Los Angeles DA spokesperson Sandi Gibbons says her office has not been "officially notified" of the test results -- and Lindsay's camp is denying the story -- TMZ has confirmed with their sources it is in fact true.
According to the terms of her probation, this little stunt will cost Lilo 30 days in jail -- a place where she already spent two weeks over the summer, followed by 24 days of wildly expensive and apparently unsuccessful rehab.
Stay tuned for more as this story fleshes out -- we're sure both of her famewhoring parents will have lots to say on this topic!
read on for more lindsay lohan
Lindsay Lohan on Lindsay Lohan
Lindsay Lohan arrest warrant issued
Lindsay Lohan released early from rehab