Top Celebrity News!
Check out today's top celebrity news from around the web, including Heidi and Spencer, Jessica Simpson, Robert Pattinson and much more!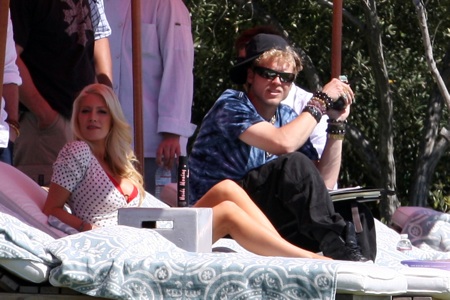 Heidi Montag and Spencer Pratt are back together & making us puke - TMZ
Jessica Simspon takes her paid escort on a date - Too Fab!
Michelle Duggar's vagina is breathing a sigh of relief - Celebrifi
Mel Gibson has a Polish porn star looking out for him - The Hollywood Gossip
Hilary Duff always travels with extra hair extensions - Dana's Dirt
You oughta know that Alanis Morissette is ready to pop - ICYDK
Robert Pattinson will try to butch it up on Top Gear - Limelife
Katy Perry doesn't realize this guy's fiancee is way hotter than her - The Frisky
Star Magazine sees the lawsuit and raises Ashton Kutcher to triple dog dare status - Allie Is Wired
Please take a moment to thank Tiger Woods for putting the kabosh on this famewhore - Anything Hollywood
Hottness on True Blood - E! Online
I don't know who the hell that is, but it isn't Drew Barrymore - The Berry
Kate Gosselin is really getting good at lying - Reality TV Magazine
I hope this NCIS season 8 preview includes Tony DiNozzo shirtless - TV Fanatic
Lady Gaga was born this way - Splash News