Julia Roberts Talks To SheKnows!
Eat Pray Love allowed Julia Roberts to let herself go. Sorry to borrow the tagline of the film version of Elizabeth Gilbert's literary pop culture phenomenon Eat Pray Love, but if there is a better phrase to describe life for Julia Roberts, we welcome the suggestion.
(page 2 of 2)
Julia's journey
SheKnows: Tell us about the food!
Julia Roberts: In Italy, they went to amazing pains to create incredible food. I had to eat endlessly in the heat. There was this one plate of pasta [laughs] that under all other circumstances is the most amazing dish of pasta you will ever have. It was delicious. That was my favorite.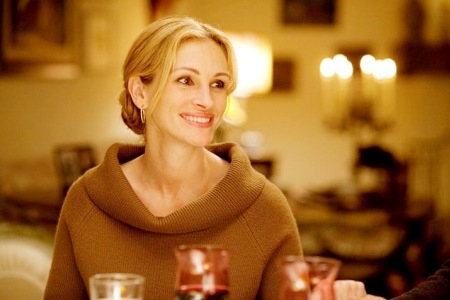 SheKnows: How did what you see in Rome change you or affect you?
Julia Roberts: When I think about being in Rome, the lunch scene where I ordered for all of my friends, sitting at the head of the table looking at these lovely people, it was a beautiful site. In India [laughs] well, let's just say this, I, as a mother, pack a 10-pound box of medicines and Tylenol, all these things, which I never had to open. And I had a 10-pound box of snacks. That was my favorite food in India [laughs]. My favorite site in India -- there are these extraordinary women, they wear the bright colors and all the jewelry. They are elaborate and elegant and profoundly stunning. I had one of our translators ask what the story was behind the bright colors, etc. She said it shows that she's married. If her husband passes away, she takes it all off. I thought that was pretty amazing. In Bali, there are no bad sites in Bali and my favorite bite in Bali was fresh mango. It was refreshing after nothing but granola bars!
SheKnows: The costumes on Eat Pray Love were magnificent. Are any in your closet currently [laughs]?
Julia Roberts: I want to keep everything [laughs]. The costume designer, Michael Dennison, I think had me doing the most costume changes I've ever had in a movie. Before, it was 40 or 50. That's average if you're in a lot of the movie. This movie, by the time we were done -- there were 103 costume changes! He works tirelessly over making it authentic. Every once in a while, he'd be working so hard on what we were trying to accomplish with my character, I'd sit back and think, "Wow, he still has to costume everyone else and all the extras!" It was like wardrobe Olympics in this movie! I loved everything. It was definitely a joy from one country to the next. I like the scene, the "it's time" scene (with Javier in Bali), I love that outfit. We needed something that was simple, we're just hanging out. It also had to be pretty. He found the perfect outfit. That is in my closet actually [laughs].
Part two of our Julia Roberts interview premieres August 12 where she dishes her thoughts on each of her co-stars and why you should see Eat Pray Love!