Cats & Dogs' Villain Joins SK Posse
Cats and Dogs: The Revenge of Kitty Galore villain-in-waiting Mr Tinkles has granted us an exclusive interview and it has got to be seen to be believed.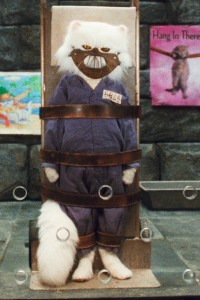 Bette Midler may be the titular villain extraordinaire in Cats and Dogs: The Revenge of Kitty Galore.
Yet the cat who gets the most out of his nine lives is Mr Tinkles.
Inspired by Hannibal Lecter, Mr Tinkles visited with us from the lap of luxury where this feline found a way to enlist our support for global domination.
How can you resist a cat with the name of Mr Tinkles?
Where Bette Midler's Kitty Galore is fabulously fierce in her feline evil ways, Sean Hayes portrays Mr Tinkles with a subtle strength that knows when to get excited when the opportunity to rule the world arises.
Mr Tinkles exclusive interview
Read on for more Cats and Dogs: The Revenge of Kitty Galore
Bette Midler interview
Christina Applegate and James Marsden dish
Cats and Dogs: The Revenge of Kitty Galore review