Project Runway & Heidi Klum Return
Heidi Klum and Project Runway are back. After settling into their new network, Lifetime, and earning an additional 30 minutes for the fashion fantastic, Tim Gunn, Klum and Project Runway are back on Thursday nights to work it.
(page 2 of 2)
Klum on kids, terrifying TV moments & her ideal guest judge
SheKnows:
Do your kids show any inclinations towards being interested in fashion?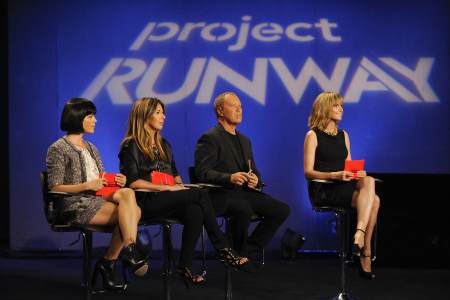 Heidi Klum: Some do and some don't. Our son Johan doesn't care about what he's wearing. Henry has opinions about what he wears. He changes clothes all the time. He is very particular even about his pajamas. Leni loves dresses and being a girly girl, and hasn't gone beyond pink. She went to a runway one day and she wasn't impressed. There wasn't enough pink in the clothes.
SheKnows: In all your experience working on television, what was the most difficult on-camera moment you had?
Heidi Klum: Swimming with sharks without a cage [laughs]. I did a thing for the Discovery Channel. I'm not a good swimmer and not fond of sharks. Swimming with sharks was freaky. I learned to scuba dive two days earlier. We filmed a whole segment on the sharks, not in a cage. When I got my mask off, I was cursing left, right and center.
Heidi finds fashion
SheKnows:
What first drew you to the world of fashion as a child?
Heidi Klum: I was always interested. I was always a little different in how I would dress, I wasn't always the most casual. I started a sewing club. If I didn't get into modeling I would have gone to Dusseldorf for fashion school.
SheKnows: Like other talent competition shows, do you think every show should have a "mean judge" like Simon Cowell?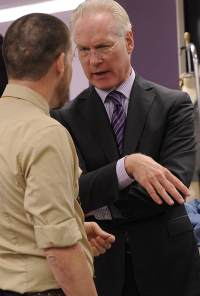 Heidi Klum: That's no good [laughs]. You tell me if that's the truth. I don't think there's a role to give anyone. Sometimes, I think I say positive things. When there are things I dislike, I tell them. I don't think I do it in a mean way, I just tell them what I really think. I don't hold back. I've changed over the years. When I think about the first two seasons, I was more shy. Now, I say what I think.
SheKnows: Do you have any input into the challenges on Project Runway and if so, how do you come up with so many unique tasks for your contestants after all these seasons?
Heidi Klum: It is hard to come up with new things all the time, to step outside the box, bring new ideas to life. Sometimes I see our designers that are so amazing. They don't make clothes, they make fashion.
SheKnows: Who would be your ideal guest judge?
Heidi Klum: Our First Lady would be amazing. That would be my number one dream come true. She's super hip and cool, super fashionable -- just amazing to have.