Top Celebrity News!
Check out today's top celebrity news from around the web, including Jon Bon Jovi, Christina Applegate, Paris Hilton, Mel Gibson and much more!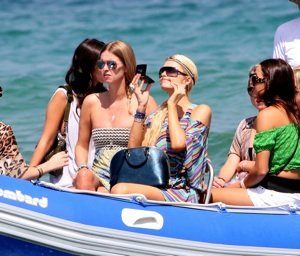 Jon Bon Jovi is a dirty, dirty boy and I like it (NSFW) - TMZ
Christina Applegate rockin' the leather maternity leggings - Too Fab!
Eddie Cibrian mows LeAnn Rimes' lawn. Yes, that is a double entendre - E! Online
More Mel Gibson filth - The Hollywood Gossip
Dear Paris Hilton, upskirts are so 2008. Put it away, please. - Dana's Dirt
Kim Kardashian knows a sex tape is faster & cheaper, anyway - Reality TV Magazine
Someone took a weed whacker to Scarlett Johansson's hair - Celebrifi
Katie Holmes looks great as Jackie until she smiles - The Berry
Leonardo DiCaprio's junk attracts a lot of attention - The Frisky
No one pulls off the perfect California Girl look like Cameron Diaz. - ICYDK
Robert Pattinson isn't dead. Sparkly vampires are immortal, duh. Limelife
Amanda Bynes figured out the real world is less fun than being an actress - Splash News
True Blood is being ruined for syndication - Allie Is Wired
Kate Winslet is gettin' some action - Anything Hollywood
Entourage didn't suck last week - TV Fanatic