Teresa Palmer Talks Sorcerer's
"Oh, Teresa Palmer, that gorgeous Aussie girl who deflowered Harry Potter." Beautiful, blonde actress Teresa Palmer hears about her breakthrough role as Daniel Radcliffe's beachside "fling" in the indie December Boys a lot! Hey world, she's moved on in a big way. This smart and friendly gal is now helping Jay Baruchel and Nicolas Cage save the planet in the magical Disney adventure The Sorcerer's Apprentice.
(page 2 of 2)
Teresa takes Hollywood
SheKnows: Growing up way down under, were you familiar with Fantasia and the magical mop scene with Mickey Mouse that is recreated here with Jay as the apprentice?
Teresa Palmer: Of course, yeah. I loved Fantasia, especially I remember the music. It really stuck with me. I was really happy to see that they kept that in the film and they paid homage to the music, the same classical music and sort of made the modern version of it. It's a special, iconic scene and I'm almost in it. I'm standing at the door trying to get in.
SheKnows: Is there a character in literature or someone in real life that you would love to play some day?
Teresa Palmer: If they ever made a movie about Lauren Bacall, I'd love to do that. I read her autobiography, everything about Frank Sinatra and Bogie and Hollywood back in the 50s and 60s. It's a whole different world. It was one of the most compelling books I ever read. If they ever decide to make that into a film, I would love to play Lauren Bacall. I've just started my own production company so...
SheKnows: Did you enjoy taking on an action role, or at least climbing a tower and running and saving the day along with the sorcerers?
Teresa Palmer: I love being physically challenged in a role and especially in this movie. I felt like, "Oh, the boys get to do all this cool stuff. When does Becky get to do the cool fun stuff?" Then I got told I got to do that scene and had a stunt double for me that day but I was like, "No! Let me do it. Please let me do it! I don't have a magical power but I want to be able to climb up something and save the world." And she does. The movie I'm working on now I Am Number Four, is such a physically challenging role. I'm doing martial arts.
Teresa's Sorcerer's Apprentice
SheKnows: Tell us about your character in that and the story.
Teresa Palmer: I play an alien called "Six." She's one of nine aliens dropped down here from our planet and we're hiding out on Earth. An enemy alien found out that we're hiding here so they come to kill us. They can only kill in our number order. They've killed One, Two and Three and they're up to number Four.. thus the title but I decide to take matters into my own hands. If they're going to try to kill us, I'm going to hunt them. Let's get together and beat them!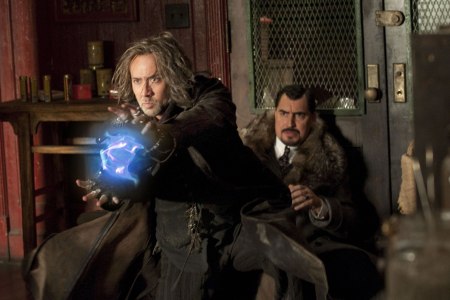 SheKnows: That sounds awesome! What ever happened to Kids in America? That's been awaiting release for a while.
Teresa Palmer: Yeah, that will release on January 28 and I'm so excited about that -- Topher Grace, Anna Faris, an 80s comedy. We just did some reshoots for it. It's so much fun. It's got a Superbad feeling. One night at a party and crazy stuff happens and there is romance and you can't get better than the 80s.
SheKnows: Why do you think women would enjoy seeing The Sorcerer's Apprentice?
Teresa Palmer: Typically people say, "Guys love the action. Guys love all the special effects." I know that women are really enthralled by action as well. I love the incredible special effects and I also think the dynamic between Nicolas Cage and Jay Baruchel is really special. I like the banter that they have and then obviously, the romance. Women are suckers for it, of course. The good guy gets the girl and he's a good person. Women will like that. It's an epic journey, an adventure and I think it's great for everyone.
The Sorcerer's Apprentice: Meet the characters
Read on for more exclusive movie interviews