Mirren Dishes Love Ranch
Oscar-winning actress Dame Helen Mirren has a powerful presence. In person or on screen, Mirren attracts focus like a magnet whether playing the Queen of England, a stressed-out police inspector (TV's Prime Suspect series), or in her new film Love Ranch, the feisty owner of a 1970's Nevada brothel.
(page 2 of 2)
Helen on her husband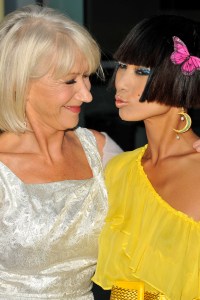 SheKnows:
Your husband Taylor is a boxing fan. How about you?
Helen Mirren: I like boxing. All my men have been boxing fans. It's very weird, all the boyfriends I've ever had and now including my husband have been boxing fans. Three of them boxed themselves. One of them almost professionally. Ever since I was in my teens I've been watching boxing. I'm quite a fan. I wouldn't say that I'm a fully-fledged boxing fan but I can certainly watch a boxing match and I do love fight night in Vegas. Fight night in Vegas is fantastic.
SheKnows: If you aren't a full-fledged boxing fan, what is your fan thing then?
Helen Mirren: Mine is crocheting. Not! [laughs]. My husband also interestingly loves dance. He'll happily go to the ballet and he adores dance. I do, too. We enjoy all kinds of forms of physicality.
Working with Joe Pesci
SheKnows:
What was it like working with Joe Pesci? Do you have different acting styles?
Helen Mirren: We don't have different styles of working. We work in exactly the same way. We look at the script. We learn the lines. He doesn't like to rehearse. I'm cool with that. I don't mind running the lines with someone but I don't want to rehearse it. You want it to happen in the moment on the set. So that's fine. But you rehearse it on the set and you find and hit your marks. We do the same thing. That was great and it was quite a revelation to me. Joe above all is a professional. He's been in the business a long time and he knows what's required and he does it and it's great. He's a very great actor and has an incredible energy. He's got that Joe energy and that's great to work with.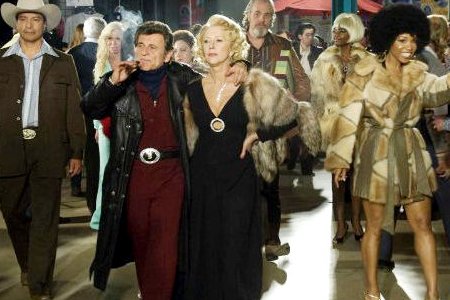 SheKnows: Did you find doing the American accent in Love Ranch difficult?
Helen Mirren: I think that someone said you're good at accents if you're musical and I'm completely not musical. I cannot sing in tune. I can't even hear a tune. My husband is incredibly musical and I'm completely not. And I do find accents really difficult. I really have to work at them. Some people do them very easily and brilliantly and I don't. I'm really bad at accents. I have to do them a lot. So whenever you see me doing an accent, believe me, it's a lot of work. I've lived in America for twenty years. You'd think it'd be easy. I find it very difficult though.
SheKnows: At one point in the film you go off with the young, gorgeous guy. What's your feeling about the expression "Cougar?"
Helen Mirren: I hate that phrase. Yes, I do. I think it's sort of offensive and unnecessary. Mind you, a cougar is a rather beautiful animal. I mean it could be, I don't know, a hedgehog. Actually a hedgehog is very sweet. An anteater. I don't know though, I find it kind of pathetic really.
Mirren muses on New York Magazine nude pics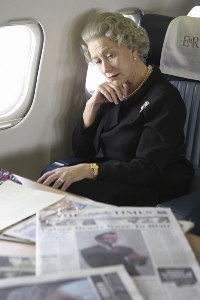 SheKnows:
Can you talk about your decision to do the recent
New York Magazine
feature where you appear topless in a tub?
Helen Mirren: The photographer is a great European photographer. He's one of the top ten. He's an art photographer and I lived with a photographer for four years and so I'm very into the art of photography. I published a book, a sort of memoir and in that book is quite a lot of the photography that I did with my boyfriend at that time. I'm very into photography and I always give photographers artistic freedom and time, especially if they're a top class photographer. I don't try to control what they do. I let them do what they want, what their inspiration is and that was his inspiration and so I went along with it.
SheKnows: Let's talk an upcoming project. How was working with Julie Taymor on The Tempest as a female version of Prospero?
Helen Mirren: That was an amazing experience. That was fantastic and challenging, definitely, but wonderful. I've done a lot of Shakespeare in the past. I haven't done it for quite a long time and so it was great to revisit Shakespeare's language and I had no idea that we were going to make a film of it. Julie and I talked about it but I thought that if it were ever to come to fruition that it'd be in the theater, that we'd do a theater production. And then she said she had the finances to make a film and I was absolutely amazed and slightly terrified. But still, what an adventure, I mean fantastic! You grab those opportunities with both hands.
Read on for more Helen Mirren
Helen Mirren at the premiere of Love Ranch
Helen Mirren in The Last Station
The summer entertainment guide starring Helen Mirren in Love Ranch