Ellen DeGeneres Variety Brilliance!
Ellen DeGeneres is one busy woman, but that is how Ellen wants it. Sure, Ellen DeGeneres hosts a daily talk show and is up for another Daytime Emmy Award (which SheKnows will be covering live!). DeGeneres is also a judge on the biggest show on the planet, American Idol. But, Ellen DeGeneres is still producing even more with the premiere of her own variety show, Ellen's Somewhat Special Special, airing on TBS.
(page 2 of 2)
Ellen DeGeneres: Variety keeps her going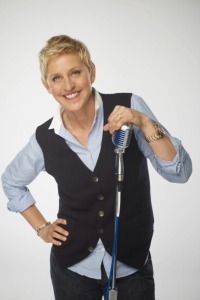 SheKnows:
What do you look for in a good variety show act?
Ellen DeGeneres: Well, you want something that is really good live. Some things are really impressive but they may not be as good live. We want exciting. These acrobats are very exciting. The flagman is very exciting. The Kabuki is really cool to watch and very funny. You're trying to find something that you're not going to see anywhere else, just entertaining and fresh, and fresh and clean, so fresh and so clean, clean.
SheKnows: Yes, a little Outkast! You do love your dance music. How does changing it up inspire you?
Ellen DeGeneres: It's actually refreshing for me to do something that I have more time to focus on. When you're doing the talk show, it really is about showcasing. There's a reason someone's on the show. If it's to promote a movie or to promote their new show or the season finale -- it's more about them. This is more about hosting and keeping something going and having fun. It's just a whole different animal and that's what I like about it. I like that I get to play more and it's a little closer to doing standup for me than doing my show.
SheKnows: Did I read that you got to visit the set of Gilligan's Island, taken by your also-entertainment crazy parents? What struck you the most?
Ellen DeGeneres: Well, actually, it made me want to live on an island and call someone Skipper. [We both laugh.]
Ellen goes back to the beginning
SheKnows:
Did your parents instill the belief that you could make it in show business?
Ellen DeGeneres: My parents were clearly very impressed with show business and everything about show business was important to them. So when I saw that, obviously as a kid, I think, "Well, that's what I'm going to do." I just didn't have any talent, so I didn't know, I didn't know how that was going to happen. I didn't know [that] I didn't really want to be an actor and I didn't know until I became a standup comedian that you could make a living just making someone laugh.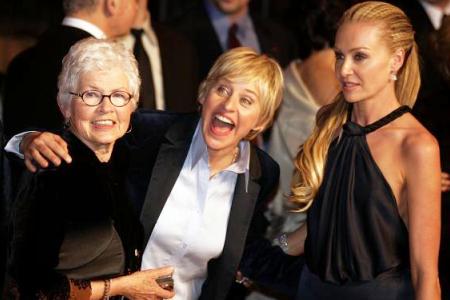 SheKnows: Did you always know you were funny, though?
Ellen DeGeneres: I didn't even know I was funny when I was younger. I'm sure that seed was planted early on that I would be in this business and somehow end up doing what I'm doing. But yes, to answer your question, that was our only vacation -- going to the set of Gilligan's Island. Whenever they [Ellen's parents] saw anybody that came into New Orleans, we'd be out there. My dad put me on his shoulders so that Charlton Heston could see me when I was like five. And that was very impressionable, too, that my dad wanted Charlton Heston to see me. He never did call though [laughs].
Read on for more Ellen DeGeneres
Ellen DeGeneres returning for next season of American Idol
Portia De Rossi dishes Ellen DeGeneres and Ted
Ellen DeGeneres: I accept Simon Cowell