The Shrek Gang's All Here!
In Shrek Forever After , Mike Myers' lovable ogre is living domesticated bliss. The only problem for Shrek is he misses the adventure of the days when he was one of the most feared beasts in the world.
(page 2 of 2)
A brave new Shrek world
SheKnows: Cameron and Mike, did you think you had to re-create your characters given the fact this is an entirely new Shrek world?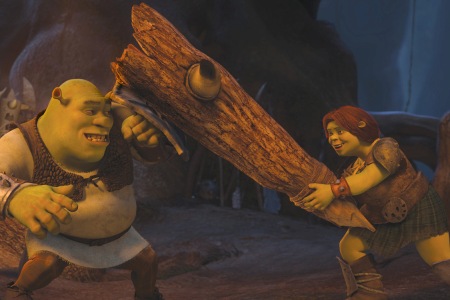 Mike Myers: The writing's so great and all the filmmakers are so committed to it being excellent that you just kind of go with that.
Cameron Diaz: It's well structured and clear as to what the two of them are going through.
Mike Myers: Mike Mitchell is a great director and Jeffrey's a great filmmaker.
Cameron Diaz: The animators are wonderful -- they're great actors. They're really the actors, the animators, who put the looks in our eyes and the chemistry between us.
SheKnows: We were told there will be a Puss in Boots movie. Can you tell us anything about it?
Antonio Banderas: Yes, the character is going to continue now with his own saga. I hope it goes well. But it's totally different from what we're doing so far in Shrek and doesn't go in the same narrative process. It goes in a different direction. It takes more from Sergio Leone's '60s movies, like a Spaghetti Western. It's a lot of fun.
SheKnows: Do you have mixed feelings about this being the final chapter?
Antonio Banderas: It's sad in one side, but very satisfying because I think that the four movies of Shrek actually sometimes became pop culture itself.
Cameron's fierce fiona
SheKnows: Cameron, Fiona is a warrior princess in this Shrek -- was that fun to play an empowered Fiona in this movie?
Cameron Diaz: For me, Fiona has always been a warrior -- I've always seen her as that. She's been a warrior of love through all these films. What she's worked for, what she's fought for is the love that she has for herself, and the love that she has for Shrek and her family and friends. So, she's always been a warrior. It's just been a different tone for this film. And her responsibilities are a little bit more involved as far as the resistance. She's always been a warrior to me and that is part of her nature and it has given her all the things in her life that she values.
SheKnows: Mike, are there any correlations between your character and his wish to just live his life and your drive for privacy?
Mike Myers: I do live in a swamp now [laughs]. I like my privacy. With something like this, I love being a part of this. And, when I'm not doing stuff, I like to go away. I enjoy being a person a great deal.
The Shrek cast shares their loves
SheKnows: This movie is about love and loving your life. What do each of you love most about your life?
Walt Dohrn: I have a 7-year-old daughter that means everything to me.
Mike Myers: New York City. I love New York City. I love that I get to live there, I love everything about it.
Cameron Diaz: I'm in love with life. It's pretty awesome when you're engaged in it. I love my family and my friends. That to me is the wealth of my life -- my friends and my family. It puts a smile on my heart.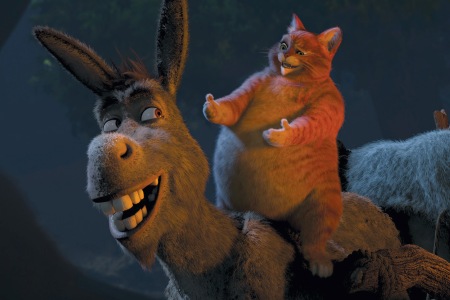 Eddie Murphy: I feel the same way as Cameron. I just love everything. I love everyone. I love love. Does anybody not love love [laughs]?
Antonio Banderas: I love the fact that today, in fact, I've been married for 14 years.
[Everybody cheers]
Eddie Murphy: And what Cameron said is true. Everybody loves being with their family. Everyone loves being around people that make you feel good. All the things you said Cameron, you hit it right on. You nailed it.
SheKnows: I know this is the final chapter, but would you go back to Shrek's world in ten years?
Cameron Diaz: It's easy, it's like when someone asks me if I'm going to do Charlie's Angels 10 years from now -- it's a little different fitting in those pants from 10 years ago. With Shrek, of course I would. We get to go back to whatever they will be 10 years from now. Hopefully, we won't have to wait that long, Jeffrey Katzenberg [laughs].
Read on for more Shrek Forever After
Shrek Forever After final trailer
The SheKnows Summer Entertainment Guide starring Shrek Forever After
A don't-miss Shrek Forever After sneak peak!