SATC 2 Stills: Best Dressed!
As much as we love the girls, the romance and the men of Sex and the City, half the fun will always be the fabulous clothes.
(page 5 of 5)
Total trends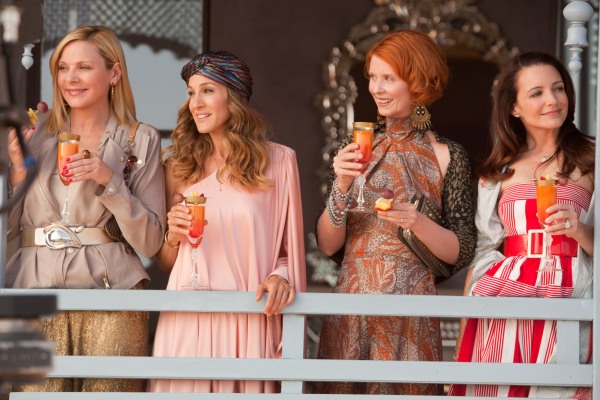 I spy with my little eye a boatload of trends. Want to know what's in style? Just look to Patricia Field. In this scene, she created a cornucopia of a la mode choices that are easily incorporated into any wardrobe or budget.
Trend 1 (on Carrie): One shoulder dresses. The Grecian goddess look has come back with a vengeance and it's a style that flatters just about every figure. You might not want to pair your soft pink dress with an iridescent turban, but the sweeping line of a one shoulder dress is still a great addition to any closet.
Trend 2 (on Miranda): A studded handbag. Studs are hot. Seriously, get your mind out of the gutter. Studded accessories like bags, belts, bracelets and rings are this season's must have, adding a little tough glamour to the scene.
Trend 3 (on Charlotte): Stripes. Bold and nautical stripes were all over the runway in 2010, from Chloe to Louis Vuitton. Just remember horizontal stripes are rarely your friend.
Trend 4 and 5 (on Samantha): Harem pants and sequins. Okay, we get that Sex and the City 2 takes place in Abu Dhabi, but that doesn't mean they needed to get literal on us. Harem pants, unless you're an Olsen twin or Kim Cattrall, make most people look like a baby with a saggy diaper or MC Hammer. We do not approve (sorry, Pat). However, the fact that Samantha's harem Hammer pants are gold sequins makes them right in line with a trend we firmly stand by. Nothing makes an everyday outfit a little prettier or a little more fun than some sparkle.