Holden Exclusive Interview!
Best-selling international author Wendy Holden is taking readers around the globe -- from London to Hollywood to Italy, in her new novel about three very different women.
(page 2 of 2)
Wendy's musts
SheKnows: What's on your nightstand?
Wendy Holden: Lots of improving works I hope I'll absorb by osmosis as I sleep.
SheKnows: Your all time fave author? Fave book?
Wendy Holden: I've got lots, because like most people I like different kinds of books. Sometimes there's nothing better than immersing yourself in something huge and nineteenth-century, which is where Anna Karenina and Madame Bovary come in. But I also love humor (not that Tolstoy wasn't funny, or Proust for that matter) and so adore the Adrian Mole series by the British writer Sue Townsend and the graphic novels of Posy Simmonds, also British. There's also a fantastic American novel called The Serial by Cyra McFadden. It's a send-up of Sixties California and is so funny that when I read it on trains I used to have to stop as I was crying with laughter.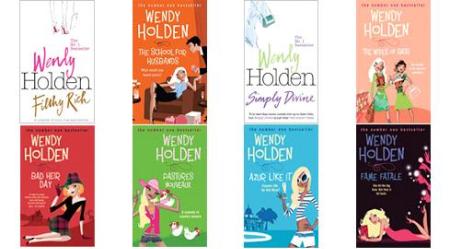 SheKnows: Must have beauty product?
Wendy Holden: A hairbrush, probably. Once your hair's looking OK you can get away with the rest!
SheKnows: What's in your handbag?
Wendy Holden: Wallet, mobile phone, make-up, contact lens things, hairbrush, plasters, tissues, things for children to draw with, small box of raisins, substrata of grit, notes for novels scribbled on backs of envelopes, family rail card for our train trip to London today. Oh, and the kitchen sink.
SheKnows: Something readers would be surprised to know about you?
Wendy Holden: I once met Princess Diana at a Buckingham Palace party!
SheKnows: Your thoughts on social media and how it helps/hinders you as a writer?
Wendy Holden: Well I don't do Facebook or Twitter myself, but they're very useful as sources of inspiration. In Beautiful People, there's a teenager called Orlando who has the pushy mother from hell. She's desperate for him to be a social success and so joins him to Facebook and endlessly monitors how many friends he has.
SheKnows: In an age where there are so many distractions and everything's going digital, what do you think a story needs to compel readers to pick up a book and read it?
Wendy Holden: Ha! If I knew that, I'd be king of the publishing world. It's not simple, I suspect. There are some readers who might buy something on a whim, others because they know the author and trust the brand. In my own case I hope it's because readers know they'll have a great time.
SheKnows: Must-have tech gadget?
Wendy Holden: I'm tragically low-tech; I can hardly text and have only just discovered my mobile phone has a video camera in it. I suppose my most necessary tech gadget is a man called |Jeff who comes to mend my computer when it crashes.
SheKnows: Fave place to write?
Wendy Holden: I'd like to say on the balcony of my favorite hotel suite in Portofino, but actually it's in a summer house in the garden of my house in northern England. It's rather glamorous, however; it has a pink telephone, a chaise longue, a phrenologist's head, a turntable, hundreds of pictures and a pink glass Oriental hanging lamp that I keep banging my head on. The most essential item is, however, the heater.
SheKnows: Dream vacation?
Wendy Holden: Any, really. I love writing but it's inevitably a rather stationary pursuit which tends to be done in one place (see above). While I'm doing it I fantasize about going anywhere, even to the supermarket. But my favorite spots in the world, since you ask, are old Europe glamour -- Rome, Venice, Antibes etc. I'm a "Grand Tourist."
SheKnows: Describe Beautiful People in 3 words.
Wendy Holden: Really good fun.
For more on Wendy and her books, visit wendyholden.net.
Read on for more SheKnows books
Oprah revealed by Kitty Kelley
The Icing on the Cupcake review
5 Nicholas Sparks books to movies we love