Food & Film: It's Complicated!
Susan Spungen may have the best job in the world. Her culinary mastery comes in quite handy on film sets such as Meryl Streep's twin 2009 hits, It's Complicated and Julie & Julia. It's Complicated debuts on DVD and Blu-ray April 27 in time for Mother's Day!
(page 2 of 2)
It's Complicated recipe insight
Recipe: Croque Monsieur (a la Jane in It's Complicated)
Serves 4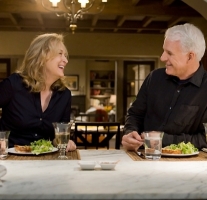 Ingredients:
2 tablespoons butter plus more for brushing
2 tablespoons all purpose flour
2 cups whole milk, heated
Pinch of ground nutmeg
Salt
Freshly ground black pepper
8 ounces grated Gruyere cheese
1/2 cup freshly grated Parmigiano-Reggiano cheese
8 slices firm white sandwich bread
Maille Dijon mustard
8 ounces thinly sliced Black Forest ham
Directions:
1. Melt 2 tablespoons butter in small saucepan over medium heat. Add flour and stir 1 minute. Gradually whisk in milk. Increase heat to medium-high and boil until sauce thickens, whisking constantly, about 2 minutes. Season with nutmeg, salt and pepper to taste.
2. Toss the two cheeses together and set aside 1/2 cup of the cheese mixture for sprinkling on top of the sandwiches. Preheat broiler.
3. Place 4 bread slices on work surface. Spread each lightly with mustard. Top each with 1/4 of the ham and 1/4 of the remaining grated cheese. Top with remaining bread.
4. Heat heavy large skillet over low heat. Brush sandwiches with melted butter. Add to skillet and cook until golden brown, about 2 minutes per side. Transfer to small baking sheet. Spoon sauce and reserved grated cheese over sandwiches.
5. Broil until cheese begins to brown and bubble, about 2 minutes. Serve immediately with a green salad.
SheKnows exclusive clip from It's Complicated

read on for More it's complicated
Nancy Meyers exclusive interview
It's Complicated review
Golden Globe winner Meryl Streep speaks