Beautiful Babies To Ogre Shrek
Families unite for film! Who can argue what a fantastic day attending a movie with the family? Finding a film worthy of the family, not only in content, but also in its attraction to everyone from parents through the youngest audience members, can be as difficult as an adventure anchored by Shrek himself.
(page 2 of 2)
April 30
Furry Vengeance
Brendan Fraser seeks to build a housing track and a mall smack in the middle of a nature preserve. Enter the wildlife animals that will not take this threat lightly. Fraser may have battled mummies in The Mummy and a T Rex in Land of the Lost, but the fury of threatened animals will surely be his unbeatable movie nemesis.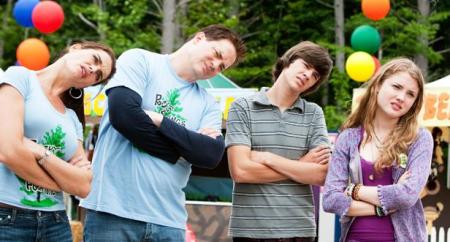 Furry Vengeance also stars Brooke Shields and a classic in Dick Van Dyke. Don't miss our exclusive interview with Shields April 29!
May 7
Babies
Who doesn't love Babies?
That is indeed the case in a new documentary from Focus Features. The movie follows four babies from birth through their first months of life.
From San Francisco to Mongolia, the central fabric of this movie tapestry is four infants with nothing but the love of their mothers and the wonder of the world ahead of them.
Don't miss our interview with director Thomas Balms May 4!
May 21
Shrek Forever After
Mike Myers, Eddie Murphy, Cameron Diaz, Antonio Banderas are joined by Jon Hamm, Megan Fox and Justin Timberlake as the Shrek franchise makes its return in 3-D. Myers is back as the ogre audiences adore, only this time the world around Shrek is much different. Thanks to the evil dictator Rumpelstiltskin, the world has turned upside down and nobody who mean anything to our giant green friend has any memory of who he is!
Stay tuned for SheKnows Entertainment's Summer Entertainment Guide that includes our look at the best summer family movies that you cannot miss!
Shrek Forever After trailer
More family film
Meet the new Toy Story 3 characters
The cast of How to Train Your Dragon talk to SheKnows!
Disney inside scoop: Princess and the Frog exclusive