The SheKnows Fey & Carell QnA!
If we could name the ideal comedy couple pairing, it would be the stars of 30 Rock and The Office, Tina Fey and Steve Carell. On April 9, Carell and Fey's comedy dream team becomes a reality as the talented twosome play Claire and Phil Foster, a suburban pair hoping to put that loving feeling back into their stale marriage in the action comedy Date Night.
(page 2 of 2)
Carell coaches Fey
SheKnows: Tina, this is the first time you've been the lead in a big studio film. Steve, did you give her any advice?
Steve Carell: Yes. First, you have to disregard all other people. She has no attitude and there's no pretense about her and so I schooled her in pretense. No, I can't speak for Tina but I don't think we think about ourselves in that [movie star] realm at all. Tina doesn't need any advice from me.
Tina Fey: When I first met Steve he threw a phone at me. He threw a large land line phone at me. I thought, 'Alright, we're in the movie business now.' No. I still feel like this is enjoyable and like a very long sustaining prank that I'm playing on the American people.
SheKnows: Let's talk stripper poles! Tina you get to perform on one in the movie. That's uh, different for you. How did that go?
Tina Fey: [laughs] Shooting that sequence, Steve and Shawn and I agreed that we should not plan it because then we'd just get into our heads about it and try to learn it too much. It would've been too good and people would've gotten aroused and it would've been embarrassing in the theaters. The part where Steve carries me around [the pole], we only did two long takes of that sequence. In the first take Steve picked me up and I neglected to hold the pole.
SheKnows: Ouch!
Tina Fey: It was a sequence that I was kind of nervous going into, like, 'Oh, boy. What's this going to be?' and I kind of knew that I could count on Steve to deliver throughout it which he did with [doing] the sexy robot. One of my favorite things in the movie is Steve licking the pole and immediately becoming nauseous. I'd like to say that we went to a bunch of strip clubs and that we really studied and stuff but we didn't.
Tina on telling tales
SheKnows:
Tina, since you are a great comedy writer, I'm sure you worked a bit on the script. What did you want the film to be?
Tina Fey: I think we wanted the movie to feel that it was at the top of its intelligence in dealing with this couple and marriage. We really wanted this couple to feel truthful and realistic to us and that they weren't a couple who hated each other and were fighting all the time. They were just a real couple who were kind of worn down by their everyday lives and were struggling to come together and that this night sparks that for them. I think we tried to pursue jokes and beats that felt true to that.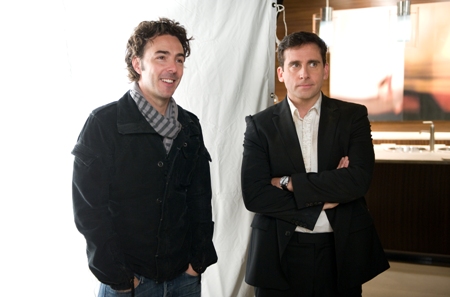 SheKnows: What do you do in real life to avoid boredom in marriage and not ending up just roommates with your spouse?
Steve Carell: Every relationship is so different and so unique. So I don't think there is any sort of blanket advice. For us, for Nancy [Carell] and myself there's a lot of laughter. There's an open line of communication and we just have fun with one another. We never forget to make fun of ourselves and to not take it all too seriously. At least for us that helps, and amazing love making.
New York as character
SheKnows:
Date Night
makes use of its New York locale. You seem to work in some of the Big Apple clichés. You live there, right Tina?
Tina Fey: Yeah. Well, the way that New York is, I've definitely encountered people like the maitre d' we encounter in the movie; people who are propping up their own self-worth by trying to make everyone else feel terrible. Then, how else is the city portrayed? It's portrayed pretty good. We took out all the shots that had real rats in them.
SheKnows: Your director said he really had to CG a real rat out of the shot.
Tina Fey: Yeah. 'A rat in New York City?'
Steve Carell: It's such a cliche.
Tina Fey finds action
SheKnows: Steve has done big action films like Get Smart but this sort of chase action is new for you Tina. Was it fun or scary?
Tina Fey: I thought that all the action stuff was really fun to do. I enjoyed those days. We spent several days and nights in those cars being pulled on giant rigs. I found it really fun, yeah, and it was impressive. Our crew was kind of awesome that these built these crazy things that involved two monster trucks tethered to two cars. It was pretty cool.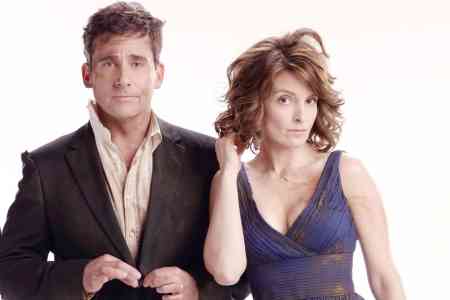 I watched the movie and I was like, 'Yeah, and then I smashed that window.' But then I thought, 'I didn't smash that window. A stunt lady smashed that window,' but [in my head] I thought that I smashed it. I liked the last few days of the shoot when we were on the roof in New York City and it was good times pretending that a helicopter was coming and I was screaming. Who doesn't want to scream at Ray Liotta [laughs]?
SheKnows: Do you want to continue doing 30 Rock for much longer or is fatigue setting in?
Tiny Fey: [laughs] Well, I feel constant fatigue but I think we'll see. I think we'll keep going until we can't anymore. I don't know. I won't know until I'm there.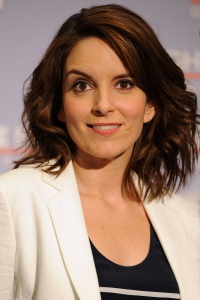 SheKnows: How crazy is Floyd's wedding going to be and will it take us to the season finale?
Tina Fey: Yes. Floyd's wedding, we're building to a multi-wedding season finale. It's good because apparently people like weddings and so we're just trying to do a bunch of weddings. I think it'll be our version of that. I think that Liz ends up having to have a function in three weddings on the same day.
SheKnows: Sarah Palin is still in the news. Are you working on any more material on her?
Tina Fey: I'm hosting SNL April 10th and so I'm sure that week we'll try something. You always try and then you see if it sticks through dress rehearsal, but yeah, tune in and we'll see what we do.
more exclusive interviews and movies
Date Night's Tina Fey and Steve Carrell career highlights
Nicolas Sparks exclusive interview
How to Train Your Dragon's America, Gerard and Jay dish their smash