Bailey Rae Rising
Corinne Bailey Rae sits down with SheKnows to talk about music and movies -- not necessarily in that order.
(page 2 of 2)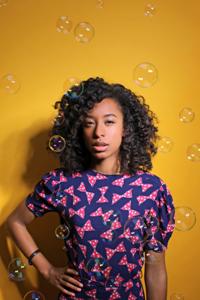 What's Going On, Corinne Bailey Rae?
SheKnows:
Who would be your dream collaboration, living or dead and why?
Corinne Bailey Rae: I think Marvin Gaye's writing was incredible. I would've have liked to be around when he was getting What's Going On.
SheKnows: As you were growing up, where did your taste in music lie? Were there particular artists that truly inspired you or even careers who would love to emulate?
Corinne Bailey Rae: Bjork and Billie Holidays' voices were a revelation to me. As I was growing up I never thought of myself as a singer because I had an unusual voice with lots of texture. It was amazing for me to hear these rare and incredible voices as a teenager. It made me consider that there may be room for my type of voice - that and Kurt Cobain. The indie revolution was a big deal to me. Music was suddenly accessible to me, you didn't have to be a virtuoso. You just had to express yourself.
SheKnows: Would ever entertain the idea of doing another movie soundtrack?
Corinne Bailey Rae: I worked on the soundtrack for Venus, a great film that came out a few years ago. It starred Peter O'Toole who got an Oscar nomination for his performance. I would like to write the music for a small independent film but I would have to love it. I do get inspired by imagery. To me visual art and poetry are the same thing.
Corinne Bailey Rae: North American Tour
April 6, Los Angeles, Vibiana
April 9, Vancouver, Commodore Ballroom
April 11, Portland, Roseland Theatre
April 12, Seattle, Moore Theatre
April 15, San Francisco, Regency Ballroom
April 17, Indio, Coachella Music and Arts Festival
April 22, Chicago, Vic Theatre
April 24, Detroit, St Andrews Hall
April 26, Toronto, Queen Elizabeth Theatre
April 28, Montreal, Club Soda
April 30, Boston, House of Blues
May 1, Philadelphia, Theatre of Living Arts
May 3, New York, Webster Hall
May 4, Brooklyn, Music Hall of Williamsburg
May 8, St. Lucia, St. Lucia Jazz Festival
May 11, Atlanta, Center Stage
May 13, Washington, DC, 9:30 Club
May 14, Baltimore, Rams Head Live
Read on for more music exclusives
SheKnows 10 Songs for Spring
Maxwell: The SheKnows interview
Carlos Santana speaks!