Supernatural Marks 10 Years
Carlos Santana released Supernatural a decade ago and in celebration of the multi-Grammy-winning album's 10th anniversary re-release, Santana phoned SheKnows for an exclusive one-on-one with a Rock n' Roll Hall of Fame member and musical master.
(page 2 of 2)
Jingo scores Santana a musical bingo
SheKnows: When your first single Jingo first hit the radio airwaves, what did that feel like?

Carlos Santana: Oh, thank you for asking that. That felt so good! It felt so good to all of the sudden be in the same breath as Bob Dylan on the radio, or Jimmy Hendrix, or Sly Stone, or Janis Joplin, or Barbra Streisand, or Simon and Garfunkel. It just felt really, really good that we were accepted as a band and as musicians. It's a remarkable feeling. My mom used to say that it's one thing to be popular and famous, but it's another thing for people to actually like you.

SheKnows: Such wise words, and profound too. What was it about the musical richness of San Francisco during that period? I don't think there's been a city since that has produced the musical power that that area did during that time?
Thomas Jefferson as "the first hippie"
Carlos Santana: Well thank you for asking that, Joel. When I first came here, all my senses got assaulted, because this is where the United Nations was formed to begin with then they moved it to New York. This is where the hippie movement, which is consciousness revolution, this is where the Black Panthers were. The hippie movement was the one who questioned authority if it wasn't enlightened by God, which is actually a Thomas Jefferson saying. He was the first hippie! Who would have known?

SheKnows: I knew I liked that guy.

Carlos Santana: He was with a soul sister, and he had children with an African-American lady. He said "question authority if it's not enlightened by God," that's a hippie thing!

SheKnows: Wow, you just gave me the chills because I do love the words of Thomas Jefferson, and I did not know of those. That's amazing. You also seamlessly work with musicians from all walks of life. I was going to ask if, over the decades, if there were a few that stood out for you, human being to human being, not necessarily as a musician.
Jimi Hendrix's high praise for Santana
Carlos Santana: The main one is kind of three in one. The main one is Wayne Shorter, and of course Miles Davis, and third was probably Jimmy Hendrix and hanging out with him three times. The way he looked at me, it's like we were equals, and he never looked down on me. He said "I love your choice of notes." That was the only complement he ever gave me. He grabbed me by the arm, as he was paying my cab because we both arrived together at the studio, and he paid his cab and my cab and then he grabbed me by the arm and he said "Hey, I just heard your record," and he said "I love your choice of notes." I thought, oh my God, Jimmy Hendrix likes my choices. It's important to be validated with genuineness and without competition or comparing.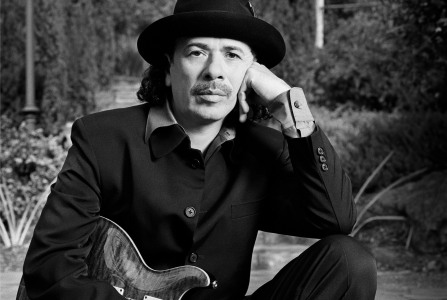 SheKnows: Absolutely, he could like your playing; he could like your music, but the choice of notes that plays right to the heart of what you do. How do you see yourself? Maybe you don't, but you are a musical legend; do you see yourself as a musical ambassador for rock music, music in general?

Carlos Santana: I'll tell you, Joel, the most accurate way for me to tell you how I feel, is I am a child of God, made out of light and love, and so therefore possibilities and opportunities are at my feet. I am a child of God; I'm not a rock and roll, Latin guy, king of anything. I'm just a child of God and by perceiving myself that way, everyday is routine and innocent and I can begin again instead of being "been there, done that." People who always say "been there, done that," they're always flat. It's like 7-Up with no bubbles.
Read on for more music exclusives
Sade's Soldier of Love listening party
Daryl Hall and John Oates' exclusive dish
Top 25 solo singers including Santana's partner, Rob Thomas