Oscar Interview: Costuming's Queen
The Young Victoria's Oscar nominations could have arisen from any aspect of its production, but costume designer Sandy Powell is in the spotlight, earning her eighth Oscar nomination for Achievement in Costuming. This story of Queen Victoria's rise to reign and her lifelong love of Prince Albert is one of the best films of 2009.
(page 2 of 2)
Powell's preferred eras?
SheKnows: You have such a varied resume. Are there particular eras that you get a real kick designing for?
Sandy Powell: I like every one I'm doing at the time I'm doing it. This particular era I thought I wouldn't like -- the early 1830s. It's actually not particularly attractive. I've always had it in my head that it was a bit drab... boring. But actually, once you start working on it, doing the research and getting into the details, you get interested and wind up liking it. I think I end up liking every period that I do, at least from learning from it. You get something out of everything. Of course, the ones I haven't done, I'm always interested in doing.
SheKnows: You have even had the pleasure of doing the '70s.
Sandy Powell: Velvet Goldmine, one of my favorites!
SheKnows: You are tackling all these different eras. It must be professionally inspiring in the sense that you are always learning.
Sandy Powell: Yeah, exactly. That's the best way of putting it, really.
Actors as inspiration
SheKnows: Do you come across actors who have their own opinions, and do you welcome that input? It must be a nice moment for you, because many times, that's when the actor becomes the character.
Sandy Powell: Exactly. I like it when they have opinions. You get some actors who just stand there like mannequins. Sometimes that's helpful because they're not being obtrusive or destructive. But, actually more often than not, I would rather have their input.
SheKnows: When you and Martin Scorsese first came together, did you have any sense of a working chemistry that would be revisited often?
Sandy Powell: You know, when you meet him, you can't help but fall in love in a way. He's so charismatic...so inspiring. He's brilliant, really. He's like a walking encyclopedia.
SheKnows: That's exactly what Leo said to me about Marty!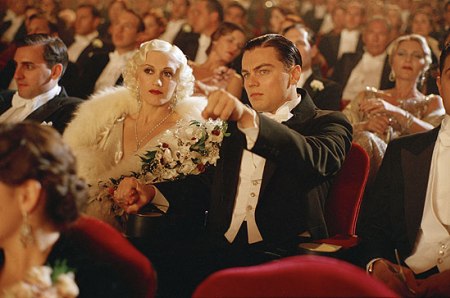 Sandy Powell: Well, I just hoped it would work at that first meeting. It actually worked well and very easily. I didn't assume that I would be doing more, but thankfully, he did ask me back. It's great working with someone more than once because you have all the shortcuts. You don't have to talk out everything.
SheKnows: I would also think Scorsese provides you many different palettes from which to paint.
Sandy Powell: Exactly; he's a very visual director. All directors are, but he's very visual. I enjoy working with the visual ones the most.
Scorsese & Shutter Island
SheKnows: Shutter Island presented its own challenges.
Sandy Powell: Yeah, it's not the most glamorous. Prison uniforms!
SheKnows: As you were growing up, what inspired you?
Sandy Powell: Even as a kid, I always loved fashion and clothes. I started making clothes for myself and my dolls at a very young age. Then, as a teenager, I went to the theater and really appreciated the costumes there and then in films. It wasn't really any one designer; I just liked it all.
SheKnows: Now, you have won an Oscar twice. When you first won, they're reading all the names, and then they say the winner and it's actually your name...
Sandy Powell: You feel sick (laughs). You feel sick first of all. Then you can't help but have an out of body experience, really. I have no idea how I first got from my seat to the stage. I have no idea (laughs).
SheKnows: Is it easier the second time, or, the same feeling.
Sandy Powell: The second time, no, it was very strange for me, I was sick as a dog. I thought I wouldn't go, I had a virus. That was the year they decided to bring all the nominees onto the stage. We all stood there and then my name was called. I just staggered over and made the shortest speech of the evening, apparently. I was in bed by midnight. It was a waste of an evening.
Read on for more the young victoria
Review: The Young Victoria
The Young Victoria exclusive clip
The Young Victoria executive producer Duchess Sarah Ferguson exclusive interview