Oscar Gowns, Makeup & Hair
Academy Awards night is among the biggest fashion events of the year. Billions of viewers around the globe tune in to see what the stars are wearing on the red carpet (and of course, to see who takes home the Oscars). Though most of us can't afford designer gowns and celebrity stylists, we can steal the looks from Oscar night. Read on to find out how to mimic Oscar gowns, makeup and hair for your next big night out.
(page 3 of 3)
Steal the Oscar look: The hair
Stylist Renato Campora worked on Kate Winslet's hair for 2009. To get the faux bob look, he secured it with a long bobby pin and plastered it with Fekkai hairspray.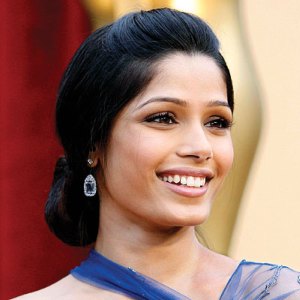 Another beautiful look at the 2009 Academy Awards was that of Freida Pinto. Pinto wore her hair in a low flower chignon. This look would be fabulous for your wedding, prom or a special date.
Celebrity stylist Jeffrey Paul created Freida Pinto's red carpet look. Pinto's hair is divided into three parts and twisted back into an architectural, couture flower shape on the right side of the head. To steal her look, wash and blow dry your hair, then follow these steps:
Mix Aveda Phomollient Styling Foam and Aveda Light Elements Defining Whip. Work the product into wet hair to add texture and volume. "When creating an updo, it's important to use products that give thickness and body," said Paul. "Pinto's hair already has a lot of shine. The cocktail of Aveda Phomollient Styling Foam and Aveda Light Elements Defining Whip provided just the right amount of hold, body and texture without weighing hair down."
Blow dry hair back to add lift and height at the roots.
Create a left side part and divide hair into three sections: three quarters of hair in one section on the right and the remaining hair into two smaller sections.
Pull the right section of hair back into a low ponytail just behind the right ear above the nape of the neck.
Twist the ponytail, working Aveda Light Elements Defining Whip into hair. Wrap the ponytail around the base, creating a flower shape. Secure in place with pins.
Work Aveda Light Elements Defining Whip into each of the remaining sections and twist back and around the flower shape, creating a layered, rose-like effect. "The three twists flow together for beautiful movement," said Paul.
Finish the look with Aveda Air Control Hair Spray.
Shake the head a bit to loosen up the look and provide a sense of natural movement.