When In Rome's Bell!
Kristen Bell has Josh Duhamel, real-life boyfriend Dax Shepard and Napoleon Dynamite's Jon Heder acting the fool seeking her affection in When in Rome.
(page 2 of 2)
Kristen klutz?
She Knows: So you constantly trip over things in real life?
Kristen Bell: There's a fair amount of that, yeah. I also bruise like peach. I knock into things. I'm not the most coordinated person in the world.
SheKnows: You have a beautiful wedding dressing in the film. Did you get to choose it for yourself?
Kristen Bell: Yes. We met with Amsale and saw their whole collection. I got to pick. It was great, right?
SheKnows: Gorgeous. Let's get some beauty tips. You've said that you began setting your alarm to ensure you got eight hours of sleep. How has this improved your outward appearance - skin, hair, eyes?
Kristen Bell: I think, for me, as cliche as it sounds, the outward all comes from the inward. I don't take apart the way I look when I'm well-rested and happy. I find that my skin doesn't look tired or as dehydrated. For some reason, when I'm getting eight hours of sleep, other things in my life fall in order, meaning I'm craving more exercise which I can't say very often, I crave more water so there is something about the eight-hour schedule that really sets my whole body clock.
SheKnows: So if it goes nine hours or seven hours, are you out of kilter?
Kristen Bell: A little bit. I do push it to nine hours as much as I can and truth be told, I never feel the same. I always feel a little bit too drowsy. So it's not getting enough rest, even on the days you can sleep in, to get up and get your butt moving - that's what I'm always saying to myself.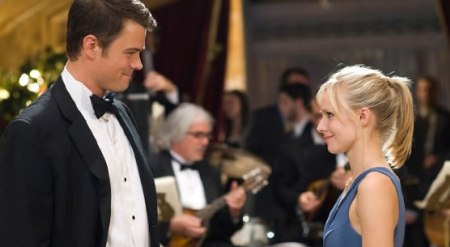 SheKnows: You are very loyal to your friends. What does a friend mean to you?
Kristen Bell: Everything in the world to me. They are my balance. They are, a lot of times, my inspiration. I have a very tight-knit group of friends who are utterly dedicated and responsible to each other and I'm so grateful for that because I think LA can be very lonely but I also think LA is what you make of it. I was lucky enough to have met the most interesting integrity-driven people and have built on that foundation and I couldn't ask for better friends
SheKnows: What do you and your pals do together most of the time?
Kristen Bell: I'm not big on going to bars and or places where the music is too loud. I'd much rather stay home and be able to have conversation but we try to be as active as possible and hike together or sometimes we'll go to Malibu and hike in the canyons where there's rock climbing and you can jump into the mini lakes. Or drive down closer to San Diego and find a tiny eco-system off the side of the road and go explore. We did that and found these amazing underwater caves. My friends are adventurers and I'm grateful because I don't think I'm adventurous by nature. I'm more of a homebody and they really take me out of my comfort zone which I am always grateful for.
kristen Bell hits the road
SheKnows: So, is hiking your favorite exercise?
Kristen Bell: I love hiking cause I can take my dogs and it's not running, which really sucks. There's nothing good about running. I've tried to do that but I'm miserable.
SheKnows: You have a hectic lifestyle so what actually brings on stress for you?
Kristen Bell: As hectic as my lifestyle is, I'm also extremely guarded about my personal life. I need winding down time at night and I need social interaction so my personal time is prioritized I guess. So when I start to push those boundaries, meaning 'oh well, I'll just get home at 10 and then go right to bed' I find that's when I start to get stressed out. But I can work from eight to eight as long as I still have from 8 to 10 to wind down to play a board game or to do whatever. If I don't have time to fill my cup up, that's when I really start to get stressed.
SheKnows: You are a petite gal. What is your ideal weight?
Kristen Bell: My body feels really good between 103 and 107 and I fluctuate but I'm happy. I don't weight myself very often but I can tell exactly where I am with weight just by the way I feel.
SheKnows: Fans still want to know. Will there ever be a Veronica Mars movie?
Kristen Bell: The way it stands now, from the information I have is that Rob Thomas wrote the treatment and brought it to Warner Brothers and Joel Silver and Warner Brothers said 'there's no enthusiasm to make a Veronica Mars movie at this point' which means they don't think they can sell tickets. I think the Veronica Mars fans would say otherwise but it's a matter of convincing them that people would see it which I know some of the online groups that are so dedicated are trying to do. That's awesome but, at this time, we have no control. One day Rob and I will just shoot it in his backyard. I'm positive of that.
Read on for more Kristen Bell
Kristen Bell chats Couple's Retreat
Kristen Bell exclusive Astro Boy interview
Who's the next Julia Roberts? We say one of our 10 is Kristen Bell