Here Comes Awards Season…
The 36th Annual People's Choice Awards kicks off award season tonight by naming fan favorites in music, movies and television - and it's not too late to cast your vote!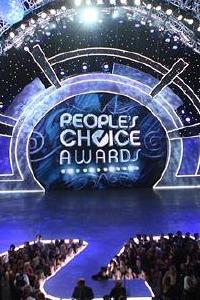 This is one awards show where winners are determined by the fans and you can still cast your vote in the categories of Favorite New TV Comedy and Favorite New TV Drama at www.peopleschoice.com until showtime - So far, the 2010 show has logged in a record-breaking 60 million plus votes!
Of course, you don't have to vote to tune in and executive producer Mark Burnett promises this is a night you can't miss.
"We have jam packed this show with entertaining numbers and surprises so much so that audiences will be unwilling to leave their seats or walk away from their televisions," says Burnett. "The stars are coming out in droves to thank the fans for their love and support and with movie sneak peeks, musical numbers and comedy skits, it's truly going to be a night that no one will forget."
Host Queen Latifa will get the party started with an all-star musical number featuring surprise guests and later in the show, fans can expect performances from Mary J. Blige and Cobra Starship with special guest Nicole Scherzinger.
And Burnett's not lying when he promises droves of stars. The guest list includes Taylor Swift, Sandra Bullock, Jessica Alba, Katie Cassidy, Sacha Baron Cohen, James Denton, Greg Grunberg, Alyson Hannigan, Diane Kruger, Cory Monteith, Jeff Probst, Rascal Flatts, Eli Roth, Christian Slater, Colbie Caillat, Mariah Carey, Steve Carell, Jackie Chan, Chevy Chase, Kaley Cuoco, Ellen DeGeneres, Jenna Elfman, Johnny Galecki, Ginnifer Goodwin, Tim Gunn, Taraji P. Henson, Josh Holloway, LL COOL J, Hugh Jackman, Ashton Kutcher, Hugh Laurie, Taylor Lautner, George Lopez, Kellan Lutz, Kathryn Morris, Jim Parsons, Paula Patton, Ryan Reynolds, Carrie Underwood, Keith Urban, Sofia Vergara and Kate Walsh. Phew, that is a bevy!
The night will also include exclusive sneak peeks of Sam Worthington, Ralph Fiennes and Liam Niesen upcoming flick Clash of the Titans; Ridley Scott and Brian Grazer's action adventure Robin Hood, starring Russell Crowe and Cate Blanchett; and the first few minutes of the 20th season of "Survivor," where it's all about "Heroes vs. Villains"! As always, the party starts before the show with action on the red carpet, where fashion and beauty expert Gretta Monahan will get red carpet style dish from nominees and presenters.
The show starts tonight at 9pm on CBS, but get there early if you want to catch the red carpet!
read on for more entertainment news