Grammy Party
Tips & Recipes
The 52nd annual Grammy Awards show takes place on January 31st. Host a low-key get-together with family and close friends to watch the high-energy performances on music's biggest night. Here are our top Grammy Awards party tips and recipes.
(page 2 of 2)
Grammy Awards party recipes
BLT Dip
Makes 20 servings
Ingredients:
1/2 pound bacon
1 cup sour cream
8 ounces cream cheese, softened
2 tomatoes, seeded and diced
Directions:
1. Place bacon on a microwave-safe plate and cook until crisp. Drain well and crumble bacon.
2. In a serving bowl, combine sour cream and cream cheese until smooth. Stir in bacon and tomatoes. Serve chilled.
Sweet Potato Fries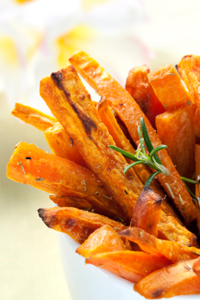 Makes 8 servings
Ingredients:
1/2 teaspoon ground rosemary
1/2 teaspoon sea salt
1/4 teaspoon ground thyme
4 large sweet potatoes, peeled, cut into thick strips
1 tablespoon vegetable oil
Directions:
1. Preheat oven to 400 F and cover a large baking sheet with foil.
2. In a large bowl, mix rosemary, salt and thyme. Add potatoes to the bowl and drizzle oil over top. Mix well until potatoes are coated.
3. Arrange potatoes on prepared baking sheet. Bake 30 to 35 minutes or until fries are crisp.
Crab and Blue Cheese Deviled Eggs
Makes 12 servings
Ingredients:
6 hard-boiled eggs, peeled
3-1/3 tablespoons mayonnaise
1-1/3 tablespoons celery salt
2 teaspoons Dijon mustard
1 teaspoon dried oregano
1 teaspoon onion powder
1/2 teaspoon Worcestershire sauce
Salt and pepper to taste
1 (6-ounce) can crabmeat, drained
3 tablespoons crumbled blue cheese
Finely chopped fresh parsley for garnish
Directions:
1. Slice eggs in half lengthwise. Scoop yolks out of whites and place in a bowl, reserving the whites.
2. Add mayonnaise, celery salt, mustard, oregano, onion powder, Worcestershire sauce, salt, pepper and crabmeat to egg yolks. Mix well.
3. Transfer yolk mixture to a pastry bag fitted with a star tip. Pipe yolk mixture into the centers of the egg whites. (Alternatively, spoon yolk mixture into whites.)
4. Arrange deviled eggs in one layer on a serving dish and chill. Sprinkle with finely chopped fresh parsley before serving.
More red carpet entertaining tips