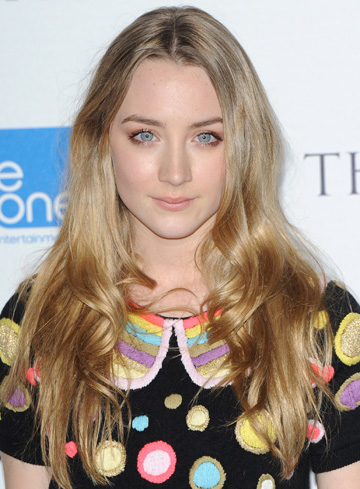 Saoirse Ronan
Saoirse Ronan captivated us in 'Atonement'. This month she follows up that award-winning performance with her role as a tragic teen in 'The Lovely Bones'.
Birthday: April 12, 1994
Hometown: Born New York City, raised County Carlow, Ireland
Family: Only child of Monica and Paul Ronan
Education: Currently attends Kilkeny College in Ireland
Acting is in Saoirse Ronan's blood. The talented teen was born in New York City to actor father Paul Ronan, seen recently in The Tudors. Saoirse (pronounced SEER-shuh) fell in love with the art of acting while accompanying her father on the set of such films as The Devil's Own and Veronica Guerin.
After making her film debut in the 2007 flick The Christmas Miracle of Jonathan Toomey with Tom Berenger, Saoirse captured the attention of the public and the industry with her portrayal of 13-year-old Briony Tallis in Atonement. The role earned her 15 award nominations and four awards, including the Irish Film & Television Award for Best Actress in a Supporting Role and a nomination for the Academy Award for Best Supporting Actress.
Saoirse has not looked back since. Three movies later -- including I Could Never Be Your Woman starring Michelle Pfieffer, Death Defying Acts and City of Ember -- the teen is now starring in the long awaited film adaptation of Alice Sebold's critically-acclaimed novel The Lovely Bones. Saoirse plays 14-year-old murder victim Susie Salmon, whose soul matures in her personal heaven as she watches her family deal with her violent death.
Heavy stuff for a girl who was just 13 when filming began. So what does she do to decompress? She reads equally heavy literature, like Ernest Hemingway's The Old Man and the Sea and Anne Frank: The Diary of a Young Girl. At least she's into pop music like her peers, counting Lady Gaga and Beyonce among her faves -- but you'll also find Fleetwood Mac, David Bowie and Bob Dylan in her iPod.
What's next for Saoirse? After The Lovely Bones, look for her in The True Confessions of Charlotte Doyle and The Way Back in 2010.
Photo credit: Daniel Deme / WENN.com
Up next: More pictures of Saoirse Ronan >>
More From SheKnows Explorer