Viggo's Long Journey
Viggo Mortensen, to many of his female fans is a gorgeous "man's man" who will always be the dreamy Aragorn in Peter Jackson's Lord of the Rings trilogy. But, the star of the November 25 release, The Road, is man for all seasons. Mortensen is a true Renaissance man and his photography, painting and poetry have garnered international acclaim.
(page 2 of 2)
Cormac McCarthy's momentous vision
SheKnows: What did you draw from talking to the author of the novel, Cormac McCarthy?
Viggo Mortensen: I just talked to him one long time before shooting, on the phone. We just talked about his kid and my kid, and being dads. I had tons of notes ready to ask him about and a pen, and I was ready to really pick his brain. At the end of the conversation, he asked me, 'Well, do you have any specifics about the book?' He hadn't read the script and he didn't want to read the script, which was unusual for a writer. He just said, 'It's a different medium. You guys do your thing. But, if you want to talk about the book, is there anything you want to ask?' I looked and I had 50,000 post-it notes in the book, and not one but two pens, in case I ran out of ink. I was ready. And I said, 'No, I don't, really'.
SheKnows: So, just chatting about being dads was enough?
Viggo Mortensen: (nods) Because I realized that conversation we had was all I needed to get going. There was something universal about this adult and this child that anybody can understand. I think that's why this book has had such a reach, more than any other, even No Country For Old Men, with its Oscar success. Because this book is so heartfelt and so free of any gimmickry, it just transcends cultures and languages. It's a very successful book, and a lot of people around the world are looking forward to seeing the movie, which makes me hopeful, even though it's a daunting, difficult film. But, I do think it does have a built-in audience of people who are anxious to see what was done with their beloved book.

SheKnows: You spoke of bonding with young actor Kodi. Were you very protective of him during this difficult shoot?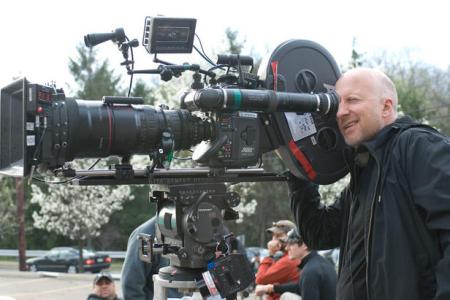 Viggo Mortensen: They were hard scenes, emotionally. As much as he didn't like it and I didn't like it, the fact that it was so cold, and we were wet and tired all the time actually helped. The cold was particularly hard for him because he's from Southern Australia and he'd never seen snow. The first day, it was snowing. He couldn't believe how cold it was. It wore him out very quickly, and it pushed his emotions and mine closer to the surface. It made me more protective of him, in a way. I was trying to get him through the day, and then the next day. It was like the story, in a way. Let's say it had been not a relatively low-budget movie, and it had been shot with green screen and a lot of post, it just wouldn't have been the same.
Viggo and Charlize Theron together!
SheKnows: In flashbacks to a happier time, Charlize Theron plays your wife in the film. Can you talk her and her character?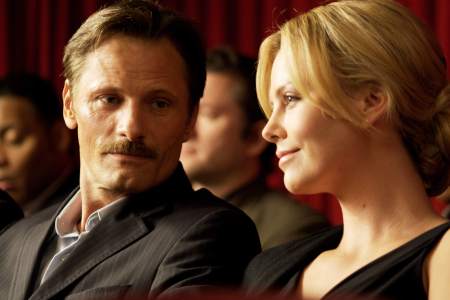 Viggo Mortensen: What I think about her, and I commend her for, and the director of course, is that the way she played the character, somehow I cared more about her character (in the film than I did in the book). And, it wasn't expanded. It's the same character from the book. But, when you read the book, it's easy to dismiss her and say, 'She's weak. She's wrong.' He's constantly tormented, remembering her. He can't sleep, thinking about her. Well, of course, it's his wife. But, in the movie, you understand her point of view, and it seems legitimate, it's probably more reasonable than mine. When she says, 'How are you going to survive? Why? I don't want to just survive,' he's like, 'I don't know." I learn why by the end, for love, kindness and all that stuff, but I don't know how.
SheKnows: Her character doesn't have any hope left.
Viggo Mortensen: And her point of view was valid. We agreed to disagree. There was a respect there. And, you could see the affection between them. You understand why she was so sorely missed and why that is the burden that he carries. It's not just this world that's gone. It's her that he's thinking about, all the time, and trying to keep that from his son. He says, 'You've got to stop thinking about her. We both do.' The kid says, 'How do we do that?,' and he doesn't have an answer for that. He tries, but he never really does, which is beautiful. He might throw her picture away, but he can't quite (throw) her ring away. And then, in the end, he comes to accept the fact that it's okay not to let go, if it's in a certain way. Those are the sorts of things that McCarthy takes pages to do, beautifully. That's why a lot of people said, 'It can't be done. You can't make an engaging, entertaining, beautiful, poetic story as a movie from this book. It can't be done.' They were wrong.
Viggo's Road victory
SheKnows: Did going to this emotional place and the physical challenges on location just wear you down? Was it hard to serve the story?
Viggo Mortensen: There were times where I was just too tired and annoyed and kind of depressed, and that did help. After I realized, 'Okay, we can do this. This boy is great, and we can do this together,' the emotional thing was still hard, but I could see that it could work. A concern that I had, initially, was, 'How does it keep from being flat? Enough with the suffering already.' (we laugh). But, you trust the story and there's so many things that are learned along the way, in the interactions with other people, the environment and each other. You just have to trust what Cormac McCarthy wrote. Because the script was a very faithful adaptation, you just had to trust that book and that story. When the overall predicament is stripped away, what do you do? How do you behave? How do you treat others? Do you even care anymore about being alive? Do you know why you want to stay alive? Do you find out a reason to stay alive, by the end? I think, 'yes, you do'. And, that was interesting.

SheKnows: There is a scene in which you strip down and run into the ocean. It looked just freezing. Was it?
Viggo Mortensen: It was very cold. I asked for another take, but they were terrified. They didn't want me to. They had ambulances. The water was 41 degrees Fahrenheit, and the wind was just really blowing. The air temperature was the same, but because there was howling wind, I was practically frozen. I think the air was probably freezing. It was so extreme. They had an ambulance and they had all these heaters on, and I just sat in there with a bathrobe and said, 'Just tell me when you're rolling. I'm just going to run out and go.' It was a chamber of horrors. But, I was on the journey together with Kodi.
SheKnows: How are your own survival skills?
Viggo Mortensen: Not bad. I go camping a lot. I like the outdoors and camping.

SheKnows: Would you survive okay in this scenario?
Viggo Mortensen: I don't know. I don't know if I would have the courage to keep going, when it looked impossible. I'd like to think I would. I'm actually better with a gun than (my character) is, and more comfortable. He's not, necessarily. He's learned to be, and it was important that it seemed that way. If it's just an action guy, it's not the same thing as it being a difficult thing. He's constantly reminding himself and the kid of what to do.
The Road leads everywhere
SheKnows: After living in the post-apocalyptic world of The Road, do you appreciate your life more? Do you worry about and End of Days happening?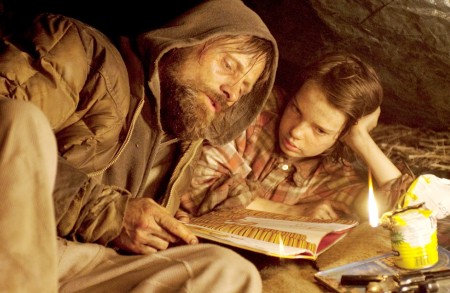 Viggo Mortensen: Yeah, sure, I do. Even though it's not explained (what actually has happened to the Earth), because it isn't in the book, it does make you think about it. Because you believe the emotional journey and you visually believe the landscape, you believe it's real. We shot in real places that had been devastated by nature and by man. Of course, you're going to think about it. The landscape, and the relationship and what I felt in telling the story with Kodi, made me think more about my son and my family, and just about how fleeting life is and that it is worth making that effort to see more or learn more, and to appreciate it. It's a very simple idea. No matter what the excuse to not be kind, it's always better to be kind. That's simple, but if you make this journey honestly, as a spectator or as filmmakers, you earn the right to come to that conclusion. It really is best to be nice, always. It did make me appreciate things. Somehow the ending that we earn is strangely uplifting, and that's exactly how I felt, in telling this story and watching it.
SheKnows: With all of the talk of Oscar nominations for this film, what does that mean to you?
Viggo Mortensen: It's not an easy thing. If you see it, then you're (transported) there. Hearing it described, you're like, 'I don't know if I want to see that.' But, once you see it, I find that people tend to say, 'No, you've gotta see it!' So, it's very much a word-of-mouth movie, and there's no better word-of-mouth than reading in the newspaper, 'Nominated for Best Picture, or Best Director, or Best Actor, or Best Supporting Actor.' It would help this movie get seen, I know that. So, that's great. As far as the likelihood or not, of that happening, I don't know. I was sure that David Cronenberg would be nominated for Best Director for A History of Violence and it would be nominated for Best Picture, but it didn't get that from anyone. So, you never know. And then, with Eastern Promises, I ended up being nominated for every ceremony. I was like, 'Well, how did that happen?' I don't know how they make those choices, but I know that, with a movie like this, it would be really helpful.