Cheryl Hines Exclusive Interview!
Serious Moonlight stars Meg Ryan and Cheryl Hines from a screenplay by Waitress scribe Adrienne Shelly. Actress Hines was honored that her first foray into directing was at the head of bringing Shelly's next script to life.
(page 2 of 2)
Cheryl tackles a Serious story
SheKnows: The story of Serious Moonlight has been creating quite a lot of buzz. How do you think it plays to what women are going through in today's world?
Cheryl Hines: It's a fun movie to watch because there are a lot of women and some men (laughs) who have to knock out their spouse and tie them up and make them listen to what you have to say to them (laughs). There's a little bit of a fantasy playing out in this film. Also, Adrienne wrote about a woman who was doing it all. Louise, she has a great career. She's independent and as Ian says can "bench press more than he can." But, he says, "You don't need me." She says, "I love you. Isn't that better?" And he says, "No. It's not better." It's interesting because I think there are a lot of women out there they are independent, making it happen and they're not expecting a guy to ride in a white horse, much less a guy who says he wants to ride in a white horse. It's an interesting situation.
SheKnows: (Laughs) It is, and it is unique for our times. Creating a new dynamic in an already complicated world of male-female relationships.
Cheryl Hines: (Laughs) Yes! Yes!
Comic chemistry 101
SheKnows: You've worked along some real comic greats including Larry David, of course and you keep step with them every step of the way. I was wondering if your early background was in comedy performance?
Cheryl Hines: Yeah, I studied in The Groundlings theater here in Los Angeles. They do sketch comedy and improv.
SheKnows: As you've worked with the likes of Megan Mullally, Jeremy Piven and Robin Williams, have there been experiences that have inspired you as a comic artist?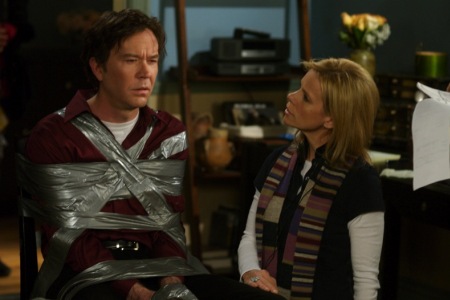 Cheryl Hines: I remember one day on the set of Curb Your Enthusiasm. I was supposed to walk into a room and catch Larry (laughs) with his hands on this woman's' bare breasts because she just got breast implants and wanted to him to feel them. When I walked into the scene and Larry said, "Why don't you come in carrying something?" He thought it would be funnier. They gave me this tall plant to carry to come into the scene and it was funnier. It made me think, "Oh, yeah, comedy is so visual and even little details that I'm sure if you're sitting in your living room." You're not thinking, "Oh, that's hilarious that she walked in carrying a plant." But, for some reason, it did the make the scene funnier. It made me think of comedy in a broader way.
SheKnows: Almost adding a third dimension.
Cheryl Hines: Yeah, exactly! It's a different layer, texture to it that you don't even think…you don't know (laughs), unless you're witnessing it.
SheKnows: That's a fascinating window into that world, thank you Cheryl!
Cheryl Hines: Sure!
SheKnows: Now, Serious Moonlight, it has such a great feel and pacing to it, I wondered if we'll see you back in the director's chair anytime soon?
Cheryl Hines: I hope so -- it's funny because when we were actually shooting I would have said that there is no way. It was just too hard. I didn't think I'd make it through the day. It was stressful. But, now that I've had a little perspective and I feel like I would want to do it again. It has to be the right thing.
SheKnows: It was a true pleasure to witness your first directorial work and it was a true pleasure to speak to you as well -- Cheryl, thank you so much.
Cheryl Hines: Thank you, Joel. Thank you very much.
Read on for more movies
Sandra Bullock exclusive for The Blind Side
Tim McGraw talks about working with Sandra Bullock: exclusive video interview!
Leigh Ann Tuohy shares her Blind Side journey